We drove into the area and went inside to the Visitor's Center and saw the exhibits, a must before heading out to explore the dunes. Also, in this area is a bookstore, and a gift shop that sells refreshments. 
We talked to the ranger on duty, and he said that we could unhook our boat and leave it in the parking lot or that we could tow it into the dunes area without any problems. 
We would recommend that if you are towing a large trailer or motor home with a tow car that it may be difficult to try to find a place to park a 60 foot long unit in some of the smaller parking lots to tour the area. 
But, if you want to drive the 8 mile paved road and continue on the one-way loop road, then there is a large area that you can park in and walk to explore the dunes.
There is no campground in the park, but for those who want to hike the back country, there is a primitive back country campsite on a first-come basis. This is for backpackers only, and you must register at the Visitor's Center. Since there is no water available in the park, the Visitor's Center provides water so that you can fill your water bottles to take with you as you hike the dunes. The entry fee is $3.00 per vehicle or $1.00 per person if you're on a bus tour or coming into the area by foot or bike. Remember to use your National Parks Pass or Golden Pass (Age, Eagle and Access) for park entry.
The 8 mile paved road, takes you past several turn outs before you get to a one-way loop road that takes you to the Alkali Flat Trail. When you leave the pavement, you will be driving on compacted dissolved gypsum that was once part of a dry lake bed called Ice Age Lake. The gypsum that was deposited in White Sands was from a shallow sea created over 250 million years ago. 
During that time when the Rocky Mountains were formed, it created a giant dome and as the years passed this dome collapsed and created the Tularosa Basin. The dunes were created over 10 million years ago from erosion and wind making the White Sands of today. This is one of the largest Gypsum dunes fields in the world and covers 275 square miles with mounds of sand ranging from 30 to 60 feet in height
The first stop along the 8 mile paved road is "Playa Trail," it is a 330 yard round-trip walk to a small playa. A playa is a low depression in the sand that can collect rain water, but most of the time this is a dry lake bed.
As we continued down the road you will see another turn out to the "Big Dune Nature Trail," this is a one mile loop trail with wooden posts buried in the sand and numbered so that you can follow your way along the nature trail. Be sure to get a trail guide at the Visitor's Center for 50 cents or you can borrow the trail guide booklet at the start of the trail and return it when you're finished with your hike.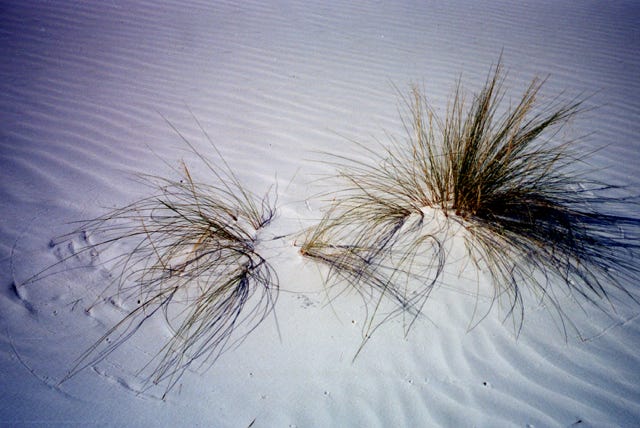 Our next stop was the "Interdune Boardwalk," a 650 yard loop trail on an elevated wooden boardwalk. 
This trail is wheelchair accessible and has several covered bench areas to get out of the summer's sun. If you look closely, at the photo below you will see some small animal's footprints in the sand.
As we drove the loop road on the hard gypsum surface, we thought that we were actually on snow and the eerie effect that this area gives. It was funny to see our camper with our boat behind out in the middle of the desert with no water around us. In fact, the handful of people that we saw as we were driving the loop road stopped to take a picture of us because we seemed so out of place in such a dry area. 
On the loop road is a Nature Center, and further down is an Amphitheater. Also, on the road is a large turn out with covered picnic tables, charcoal grills and restrooms.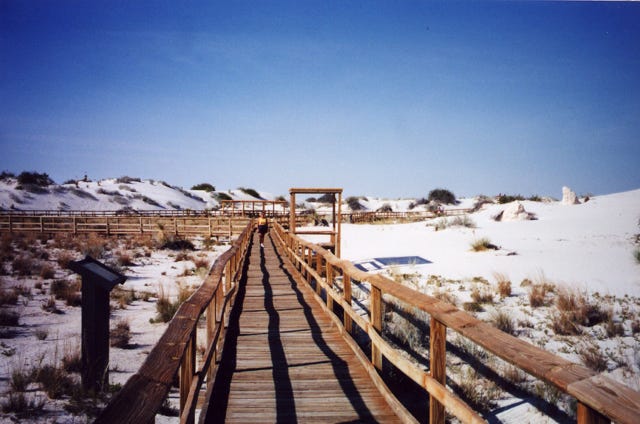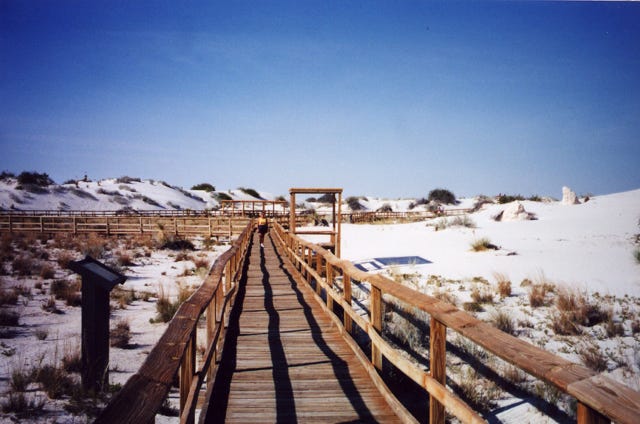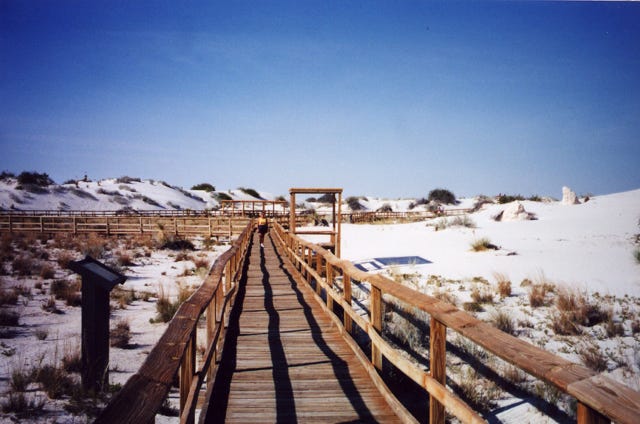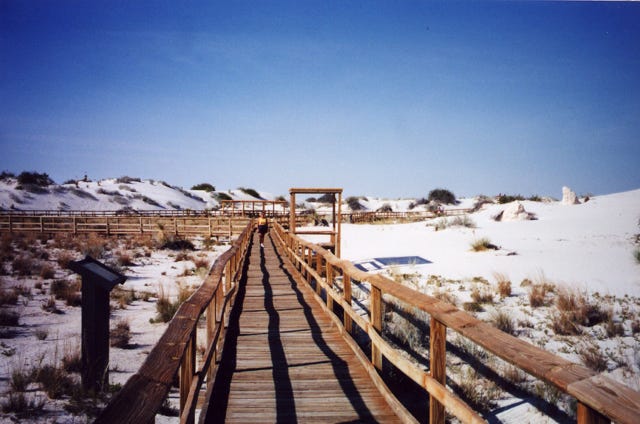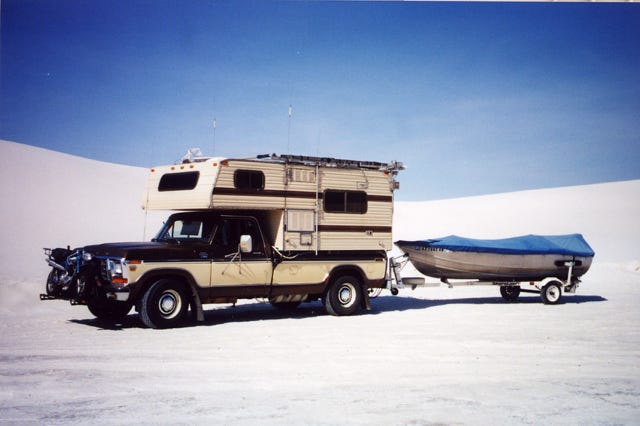 The last trail to hike is the "Alkali Flat Trail," this is a 4.6 mile loop trail in an unvegetated area of the dunes. This will take you to the "Heart of the Dunes" and to the edge of the Alkali Flat, which is the dry lake bed of Lake Otero, part of the Tularosa Basin during the last ice age. 
This trail is marked by white posts in the sand with bright orange reflective tape on the top of the posts.
As you are hiking this trail, be sure to look for the next post ahead because if the wind comes up it will cause the sand to blow making a "white out" effect like what you would expect in a snow storm. 
The sign warns hikers to be aware of this condition, and recommends not to hike this trail if strong winds are blowing. In March and April, the winds can blow up to 40 miles per hour and cause the road to become blocked by drifting sand, there is a road grader parked nearby to clear and maintain the road when this happens.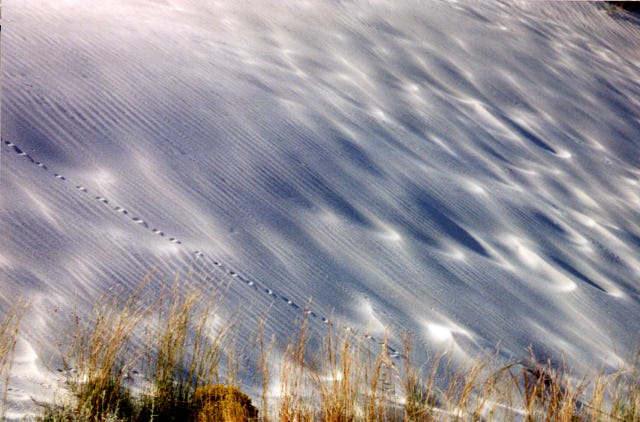 We had a wonderful time exploring the White Sand Dunes and took many pictures of the area, we said that we were glad that we did see this area when the crowds were not at the peak of summer, because the stillness of the dunes without many people around makes this a special place to see, walk, and take in the natural beauty of this area.
Well, as we leave this area we soon will be finding another interesting place to visit, it may be a place that we have seen before or a new place to explore, all I can say is, "Come travel with me, and here is what you will see!"
Contact Information:
White Sands National Monument
P.O. Box 1086
Holloman AFB, NM 88330-1086
505-479-6124
Other Places To See:
International Space Hall of Fame and Space Center in Alamogordo: 18 miles northeast of the White Sands National Monument, 800-545-4021.
Elephant Butte Lake State Park in Truth or Consequences: 50 miles south to Las Cruces, then 35 miles north on Interstate 25, 505-744-5421.
Silver City, a mining town with many events during the summer: 52 miles northwest of Deming, New Mexico.
Gila Cliff Dwellings National Monument: 45 miles north of Silver City on highway 15, 505-536-9461.
Recreation Vehicle Parks:
Alamogordo, New Mexico
White Sands KOA, 800-562-3992
Evergreen RV Park, 505-437-3721