THE GRAND TOUR - PART 1
FROM CALIFORNIA TO NEW BRUNSWICK, CANADA
On The Highway Heading North For Our Grand Tour
This is our trip of a lifetime, well planned and well thought out.  A trip that many RVer's would like to do, and many have. 
When Bill and Nancy retired in 1980, they towed their trailer to Desert Shores, California and spent the winter outfitting the truck, camper, boat, and trailer for this trip. 
This is a photo of the trailer park that they stayed in.
On June 23, 1981 they left Desert Shores, California and headed for an adventure of a lifetime with me, Lady Paws II. We traveled eight months, 20,000 miles, 33 States, 9 Canadian Provinces, and 87 campsites before returning to Desert Shores, California a year later.
Come follow us as we explore and travel the country. We have hundreds of photos, but we will only show a few at each of area's that we traveled to.
Since we have traveled and explored Utah, Idaho, and Colorado our trip will begin at Flaming Gorge National Recreation Area.
Flaming Gorge Reservoir is the largest reservoir in Wyoming, and is partially in northeastern Utah. We stayed at Buckboard Campground for several weeks fishing for trout and bass and drove around the area exploring the sites.
We left Flaming Gorge and took State route 187 to Jackson, Wyoming camping on the Hoback River, Bill is holding a cutthroat trout and I am thinking trout for dinner.
A view of the Grand Tetons on our way to Yellowstone Park. A map of Yellowstone National Park. Yellowstone National Park is located in Wyoming, Montana, and Idaho, and was established in 1872, and the first national park in the U.S.
In order to see the area, we planned to stay at campgrounds along the two main loops in the park. Entering from the South entrance we stayed at Grant Village and left the trailer there for several days and took the truck and camper to drive the lower loop from Old Faithful to Madison Junction, Norris Junction, Canyon Village, Bridge Bay, and back to Grant Village.  We did this because towing a large trailer with a total length of 55 feet it would be hard to find parking spaces at the different sites. 
The Grand Canyon of the Yellowstone River. Lower falls cascades 308 feet, twice as high as Niagara Falls.
Bull Elk in a field. 
Here, we are at "Old Faithful," viewing the explosion of over 8,000 gallons of water with each eruption. 
We fished Yellowstone lake and caught the Yellowstone cutthroat trout.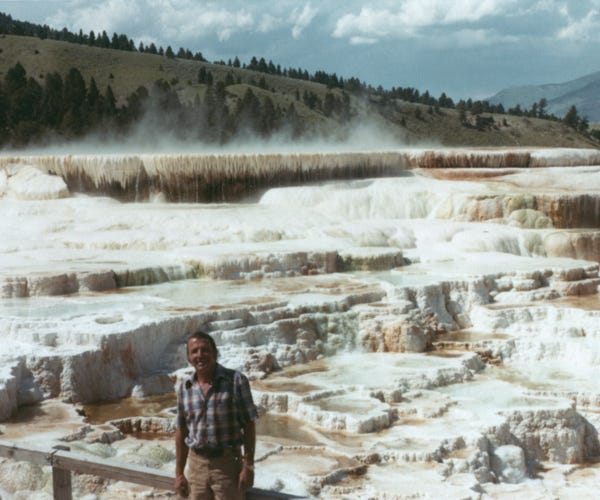 Bill is standing on a walkway with Mammoth Hot Springs in background. With more, than 700,000 gallons of water and two tons of limestone pour out each day as the tiers steadily grow. 
The Paint Pots in the Lower Geyser Basin.
Leaving Yellowstone we are at the Continental Divide with an elevation of 8,262 feet. 
We arrived at Yellowstone Holiday Campground at Hebgen Lake in Montana, we spent a few weeks here fishing for rainbow trout. 
This is Flathead Lake, and the KOA campground.
Now at Glacier National Park and driving the "Going-To-The-Sun Road," is a 55 mile stretch of a spectacular highway that bisects Glacier Park at Logan Pass at the summit of the Continental Divide.  
The visitor's center along the route with Reynolds Mountain in the background.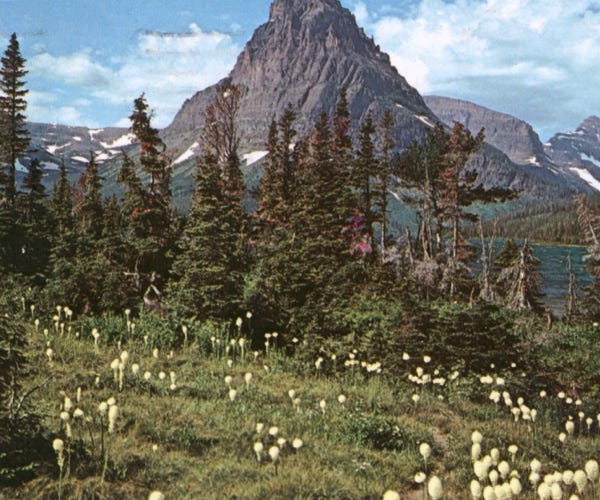 Beargrass and Medicine Lake.  
A view of Waterton Lakes National Park in Alberta, Canada, and the Prince of Wales Hotel. 
This is the fourth Canadian national park, formed in 1895 and named after Charles Waterton a naturalist and conservationist. 
A view of East Glacier Hotel.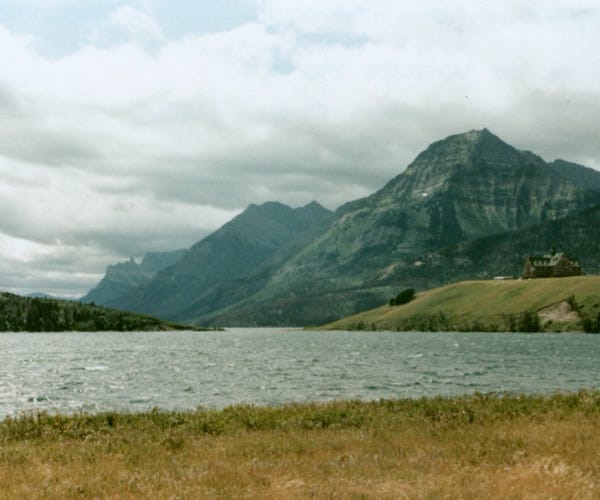 We crossed into Alberta, Canada on August 1st at Milk River and stayed there for a few days, golfing at their course and sightseeing the area.
Here, we are at "Writing-On-Stone Provincial Park," established in 1957 to protect the fragile paintings and carvings (pictographs and petroglyph's) in this North American's largest concentration of rock art near Milk River. A guided tour through the park shows visitors the carvings and "Hoodoos."
Leaving the area we are on Canada Highway 1 taking us across the country to the East. As we are driving the area we see many fields of ripe canola flowers at Grande Prairie, Alberta.
Now in Saskatchewan, Canada, and the Buffalo Pound Provincial Park and Saskatchewan Badlands. A view of farmland's in Saskatchewan.
In Manitoba, Canada, and a view of their legislative buildings in Winnipeg. 
Going through Ontario, Canada, and various lakes in the area.
Although we did plan our route driving on Highway 1 in Canada, we still had a time line to get too Newfoundland and see the fall colors of the trees along the east coast. So we tried to pick some of the special places that we wanted to see along the route and stopped and explored these areas.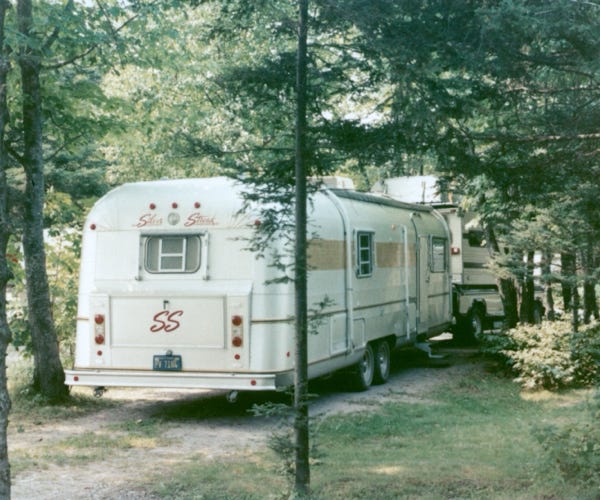 Here, I am with Bill at Wawa, Ontario. Wawa means "Wild goose," in Ojibway. This is sculptured in steel and stands 28 feet high, and is 22 feet from the beak to the tail with a wingspan of 19 feet, and weighting over two tons.
Nancy and me at an overlook at "High Falls," on the Magpie River in Wawa, Ontario.
Talk about trying to back into a space at a KOA campground in Sault Ste. Marie, Ontario.
The town of Niagara-on-the-Lake in Ontario, Canada.
While it is hard to get an overview of Niagara Falls, here are a couple of postcards showing the overall size of the area. 
This is an aerial view of the Canadian Horseshoe Falls and American Falls which are situated 20 miles from Lake Erie and 14 miles from Lake Ontario. 
A nighttime view of the area.
After we drove around the quaint town of Niagara-on-the-Lake in Ontario, Canada it was time to drive to Niagara Falls. We read that the best views of the falls is on the Canadian side and that is why we planned our route this way. Also since we still had many places to see on the Canadian side we wanted to continue our trip driving on Highway 1.
Here is Bill and Nancy with Niagara Falls in the background. 
From the Skylon Tower a view of Horseshoe Falls, here we had a nice lunch taking in the view's of just a special place. The Skylon Tower is 520 feet tall and was constructed in 1964 for a cost of $7 million dollars at that time. After lunch, we boarded the "Maid of the Mist," boat tour and saw the American and Bridal Veil Falls.
A postcard view of Sault Ste. Marie, and the famous Soo Locks, which provide a lift of 20 feet to bring a vessel from the St. Mary's River to Lake Superior. 
When an ocean freighter completes this passage, it has climbed the marine ladders through 17 locks of the Seaway System over 600 feet.
We are now in Ottawa, the capital of Ontario, Canada, and a view of the Parliament Buildings.
Our rig at the Visitor's Center in Quebec, Canada.
As we were driving on Highway, 1 we were approaching Quebec City and knew we had to find a campground to stay and park the trailer so we could explore the city. We looked in our Good Sam RV Travel Guidebook for a campground and called the RV park, a gentleman answered the phone in French and since we did not speak the language he put someone on the phone to give us directions to the park.
Since we have a height requirement and could not drive under any low bridges because of the car top boat on the camper roof we needed 12 feet of clearance. The person gave us directions and so we took his route; unfortunately, we came upon a low railroad bridge and with Bill's measuring stick in his hand to measure the clearance we could not go under the bridge. It was a two lane road, and we could not turnaround or back up a 55 foot length rig.
As Bill walked under the bridge, he saw that the dirt had been removed on the right side of the lane giving us just enough clearance to drive forward to the RV park. As Bill was driving the rig I was outside watching for clearance, we made it and proceeded to "The Escargot RV Park," we will never forget this name, in English it is the "Snail."
After we unhooked the trailer to settle in for the night, we spoke with the owner, and he wrote out a map to give us better directions to drive to the city so we did not have this problem again. The next day we drove into the city and asked where the best place is to park, they said go to the police station and park our truck and camper there and walk around the city to explore.
The above is a postcard of an aerial view of Quebec City in the winter and several photos of downtown Quebec. Bill and Nancy went to an outside cafe for lunch, and we felt like we were in Paris.
Another Visitor's Center in New Brunswick, Canada, quite a large building. Camping in Edmundston, Canada, we came across many large grassy campgrounds along our route, perfect for me to run around and play for a while, although I was on my leash.
This is the world's longest covered bridge in Hartland, New Brunswick, at 1,282 feet. It crosses the Saint John River from Harland to Somerville, New Brunswick, Canada. The framework consists of seven small Howe Truss Bridges joined together on six piers.
Bill and I again in front of the trailer at Mactaquac Provincial Park, located North of Fredericton, it has an 18 hole golf course in the park. We played a round of golf here, and it was fun.
Arriving at Nova Scotia's Visitor's Center on September 6th. We always like to stop at the visitor's center to get brochures of the area so we don't miss out on things to see. 
We drove to North Sydney and left the trailer at a trailer park so that we could take the truck and camper on the ferry at North Sydney, Nova Scotia to go too Newfoundland, Canada. On a trip like this, we wanted to do and see everything because we knew that we would probably never be back in this area again.
Arriving at Newfoundland, Canada, and the town of St. John's, the capital of Newfoundland and the oldest city founded by Europeans in North America. As you can see the weather was mostly cloudy, foggy, and overcast. Here is a view of a lighthouse from Signal Hill Historic Park in St. John's.
Norman's Cove, is a typical fishing village in Newfoundland.
As we were driving on Highway 1, we saw several tourist buses parked along the side of the highway. We got out of the truck and many of the tourists had their coffee cups or paper cups full of blueberries. They were going into the fields picking blueberries.
Bill said to Nancy that he wanted a blueberry pie and so they both took plastic bowls and walked into the field to pick blueberries. They kept it in the camper refrigerator until they got back to the trailer, and Nancy baked a blueberry pie for Bill and it was really good.
Driving along the highway is a view of "Rocky Harbour" from Gros Morne National Park. The Lobster Cove Head Lighthouse in Gros Morne Park. This is a world heritage site located on the west coast of Newfoundland covering 700 square miles, it is the second largest national park in Atlantic Canada. A view of the village of Neddy Harbour, out of Gros Morne Park.
Bay of Islands, Newfoundland. Lark Harbour, as seen from Blow Me Down Provincial Park on Highway 450 near Corner Brook and the Trans-Canada Highway.
We spent over a week driving the island and stopped at several campgrounds. I can remember one that we stopped at, Nancy took me out for a walk; it was cold and foggy. I felt uncomfortable on the wet grass and kept pulling away from her, but she knew that I had to do my business. She gave up and took me back into the camper and dried me off and saw large welts on my face and body. They drove to the ranger station, and he said I was bitten by black flies; he told Bill and Nancy to break up a small Benadryl in one fourth and to watch me that night. The next morning I was much better.
We drove the length of Newfoundland and boarded the ferry at Port aux Basques Ferry Terminal back to Nova Scotia. 
Arriving back at North Sydney, Nova Scotia from Newfoundland we went back to our trailer to regroup and for Nancy to bake that Blueberry Pie that Bill wanted. 
After spending several days at the trailer, we took off again to drive the scenic Cape Breton Island Trail, also called Cabot Trail. It is 185 miles in length and completes a loop around the northern tip of the island passing along and through the Cape Breton Highlands. 
The scenic upland and shore bear a striking resemblance to coastal regions of Scotland. A fishing village of Cheticamp along the Cabot Trail.
Driving along the Cabot Trail and a red fox next to the road. Now at Neils Harbour and various photos of the fishing village and the lighthouse.
Now with our trailer in tow we arrive at Truro and stay at a campground. The next day we left the trailer there as we drive to the upper end of Bay of Fundy between the Canadian provinces of New Brunswick and Nova Scotia. 
The tidal range in the bay is 43 feet, it is the worlds highest tides that cause this tidal bore. There are two high and two low tides each day, and you can see from the photo a wave crossing in the background.
Driving again along the highway, we arrive at the famous Peggy's Point Lighthouse built in 1915. One of several fishing villages built around snug harbors of the craggy south coast. This is one of the most photographed in Canada, located in the fishing village of Peggy's Cove.
This is a postcard of "The Three Churches," in picturesque Mohone Bay, in the City of Lundenburg. A coastal view near Yarmouth.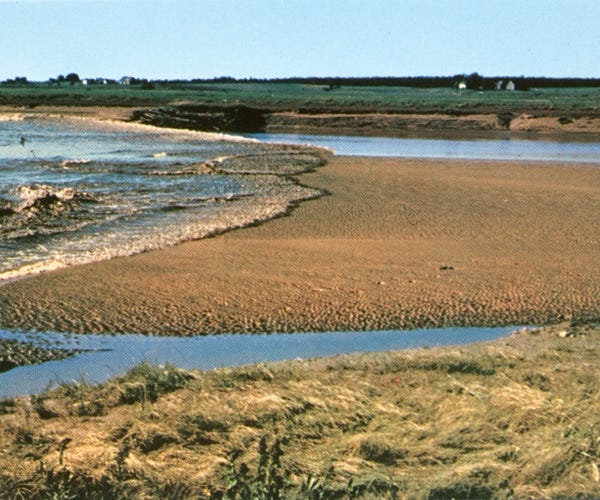 One nice thing about having a trailer with our truck and camper is that we can leave the trailer at a safe campground or RV park. We can then take side trips with the truck having all of our conveniences with us so that we can spend several nights in it as we explore these areas.
We are now at Halifax and a view from the "Citadel" National Historic Park. Construction began on the star-shaped stone citadel in 1828 and was completed nearly 30 years later.
A tidal bore in Truro, here you can see the wave approaching us on the shoreline. 
We towed to Amherst, Nova Scotia, and left the trailer so that we could drive over highway 16 to Charlottetown on Prince Edward Island. We are now at the end of September, and it is getting colder. When we were sightseeing P.E.I. there were many places already shut down.
This is a postcard of "Dalvay-By-The-Sea." P.E.I. National Park.
We left the area and are towing our trailer too Moncton, New Brunswick, Canada. Again, we unhooked the trailer at Moncton so that we could see the famous "Magnetic Hill." This is an example of a gravity hill, a type of optical illusion created by rising and descending terrain. You pay a small fee so that you can test and see your car going uphill.
You can see Nancy and me sitting on the back bumper of the truck getting ready for our drive downhill. You drive your car downhill to a spot indicated at the foot by a white post. It is not downhill is obvious from the fact that it requires power from the motor to get there.
Then, with the gears in neutral, and brakes released the car moves backwards, coasting "up" the hill. The illusion is so powerful that it is difficult to realize the car is not actually being pulled uphill by some mysterious magnetic force. Our truck and camper with the boat on top weights over 8,000 pounds and so it was hard to believe that this was really happening but it did!
Our last night in Moncton, the temperature got down to freezing and it was time to head to Maine. Driving on Canadian highway 1 we saw the fall colors of the trees and stopped to see the Centennial Park and Blockhouse at St. Andrews, New Brunswick, Canada on October 1st.
We crossed back into the U.S. on October 2nd and arrived at Bar Harbor, Maine.  We found an RV park and unhooked the trailer getting ready to explore this part of the country.
Well, now to Part 2 of our "Grand Tour." Follow us as we continue to explore the East Coast from Maine, New Hampshire, Vermont, Massachusetts, New York, Pennsylvania, Washington DC, Maryland, Virginia, Tennessee, Georgia, South Carolina, and Florida.
Copyright 1996 - 2020 Paws Travels. All rights reserved.