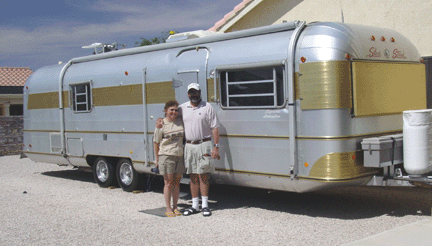 Previous Owners From 1980 to 2003
Bill, Nancy and Daisy
New Owners - John and Antonia
May 31, 2003
Bill and I wanted to keep this information about our "one of a kind" trailer on our web site so that you will be able to read, and see more pictures of what we have done to our trailer in the 23 years that we have owned it.
John and Antonia first came out to look at our trailer a week ago and said, "This is the perfect trailer for them." On Saturday, May 31, 2003, they drove over from Tucson, Arizona to pick up our trailer and to start on their own adventures. We wish them "Happy Travels."
INFORMATION
This is a 1980 Silver Streak Supreme Luxury Liner, 32 feet of living space, 34 feet bumper to bumper.  
If you read "About Our RV," you will see that our trailer is set up for full time RVing. Over the years, we have added many items to make our trailer more comfortable. This is truly a one of a kind unit. We have redone the interior, with new carpeting, sheer curtains along with pleated drapes. The sofa has been redesigned with new cushions and fabric. The sofa can fold down to make a bed, but also underneath the main cushion when you lift it up is a large storage compartment that is the full length of the sofa.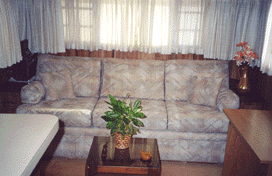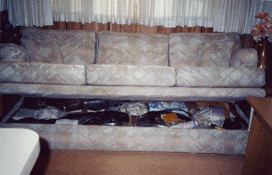 The living room is in the front, with the sofa in front by the large window and two end tables with storage at each end of the sofa. Also, stored under the sofa and behind the sofa are glass storm windows made by Hehr, a total of nine windows. We have a custom built TV cabinet which will hold a 20 inchTV (not included).
Also, in the cabinet is a 40 channel CB, 600 watt Heart Interface Inverter, space for a Satellite Receiver with all cables for the TV, VCR, AM/FM Stereo System, a Weingard Antenna with a 12 volt booster, two 12 volt fans to cool all the components in the TV cabinet. We also have two stereo speakers for listening to music when sitting outside controlled by a 3 way switch mounted in an inside cabinet.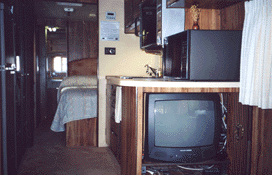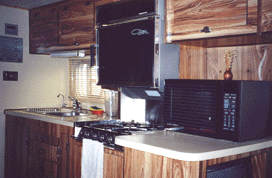 The kitchen area has double stainless steel sinks, a Nutone built-in blender in the counter top, an eye-level oven, and four burner stove top with a large cabinet underneath for pots and pans, a pressure cooker and more. A Sharp Microwave Convention Oven that is wired separately from the main 30 amp circuit so that you can still use the air conditioner while micro waving. On most trailers, you have to shut off the air conditioner before you can use the microwave, with ours wired to a separate 20 amp circuit and a separate circuit breaker box you don't.
We also have a Reverse Osmosis system with a new 25 gallon per day membrane and new filters, this is a must when traveling from one water source to another. We have plumbed the drain water line from the R/O unit to go to the holding tank when you have hookups at a trailer park or if you are dry camping you can turn a valve and direct the drain water to go outside on the ground. We have a quiet Jabsco 12 volt water pump along with a large accumulator tank made by Jabsco that keeps the 12 volt water pump from running continuously when you use water. The accumulator tank makes the water pump last longer and allows the water to run for several minutes before the water pump kicks on.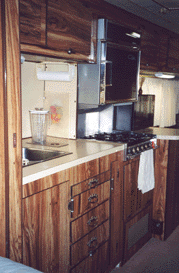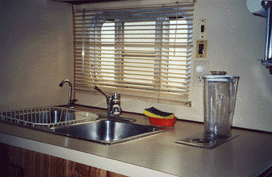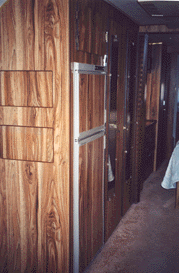 We recently installed a new Dometic 2 door refrigerator and in the outside compartment that vents the refrigerator we have installed a 12 volt fan to use during the hot weather. The roof air conditioner has been replaced with a Coleman Rotary13,500 BTU unit that has an exhaust fan as well as a built in 5,600 watt heat strip.
We have five Arco Solar panels mounted on the roof that are adjustable for tilting towards the sun along with a controller unit that shows amps of charge and battery voltage. Mounted outside on the air conditioner housing is a yellow 12 volt strobe lite that goes on when the burglar alarm goes on. The burglar alarm controls are mounted in the same cabinet along with the solar panel controller. The alarm system is wired to every outside compartment door as well as the front door and the screen door insert, the two battery boxes are also wired to the alarm system to protect the batteries. We also have a separate switch that you can pull from inside the trailer to make the alarm go off on its own to scare away intruders. Also, in the living room you can select a wall switch to put on scare lites that light up all around the trailer at nighttime.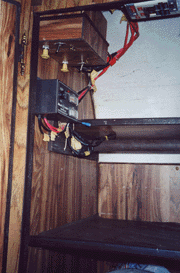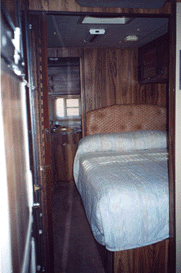 From the kitchen area, you walk down the hall, and the double bed is to the right and across from the bed is a large vanity with drawers and a large compartment for more storage. Under the bed, there are three large drawers for blankets, towels, and more. Also, under the bed is still more storage, along with the accumulator tank, 12 volt Jabsco water pump, inline water filter to protect the water pump and the 40 gallon fresh water tank. We also have an electric bed warmer mattress pad that can run off the invertor when you are dry camping or 110 volts.
From the bedroom area is the large rear bathroom with double wardrobe closets, a large tub and shower. The bathroom sink is very large with two drawers and a compartment for more storage. We have installed a new Sealand China Bowl Toilet with a hand sprayer, and have replaced the 6 gallon hot water heater that is glass lined.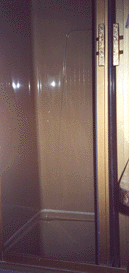 We have replaced all the roof vents with two thermostatically controlled Fantastic fans and a Fantastic vent in the bedroom. These fans have three speeds and will exhaust or bring fresh air inside the unit. All these have the strong vent covers made out of Lexan and are hail proof. The propane furnace works great, and we installed a new fan motor a couple of years ago.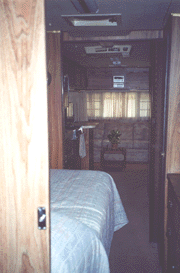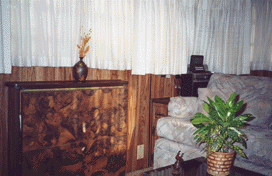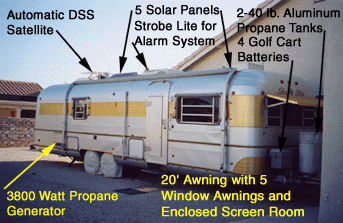 We have a Dometic 3800 watt propane generator that is plumbed into the propane tanks and a remote control switch in the kitchen area to start it up, and it only has 275 hours on it. We installed another battery box in the front tongue area behind the two propane tanks and have installed four new Trojan T-105's golf cart batteries.
We have replaced our shocks on the trailer with 4-Way Shocks and have five brand-new Goodyear Radial tires. We recently installed new wheel bearings and races and the brake linings were in very good condition. Also there is a front power jack and six stabilizer leveling jacks.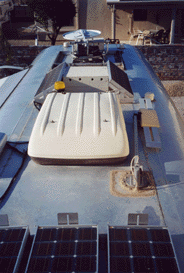 We have a 2 foot DSS Satellite Dish made by A & E, this is controlled by a remote control box that raises and lowers the dish, locates the satellite, and locks it into position. Also, a Weingard TV antenna with power booster and five Arco Solar Panels.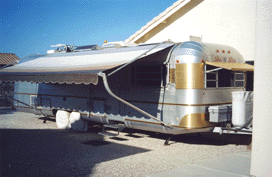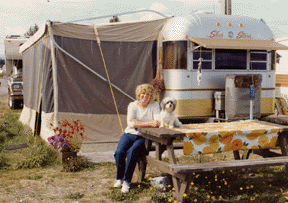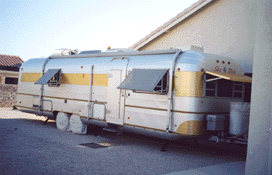 At the rear of the trailer is the trailer trunk, this is a large compartment that stores the spare tire and is so large that you can even store a Honda portable generator, several folding chairs and more. The rear bumper folds down to a large compartment that is 4 feet deep and 7 feet wide that can be used to store a large folding table and other gear along with the sewer hose. Mounted on the rear bumper is brackets for a bicycle rack.
Included is a large heavy-duty custom built weight distributing hitch head, dual EZ-Lift sway controllers and heavy-duty 1200 pound dual stabilizer bars that will go with the trailer.
Also, for all of you who use computers, we have a computer desk that fits perfectly in the living room on the right side. As you can see we have an iMac, CD Burner, Scanner, and printer.
When you are hooked up to 110 volts you can run your equipment, but when you are dry camping you can use the 600 watt inverter. We have a large Newmark 110 volt convertor that can put a 50 amp charge in the four golf cart batteries. The trailer also comes with a built-in central vacuum cleaner, and we added a separate power head attachment that has a rotating brush.
Since we were living full timing in our trailer, we have accumulated a lot of spare parts so that we could fix anything on the road.
When we decided to sell our house and go full timing, we wanted a well-built trailer that is easy to tow with lots of storage for all of our gear. Since we sold our house, we knew that everything we wanted to take with us had to fit into the trailer and it did. Before buying our Silver Streak, we measured and calculated the storage of other 32 foot trailers, this included Airstream, Avion, Holiday Rambler, and several others. This by far had the most storage of all, with over 250 cubic feet of storage. We enjoy a lot of hobbies, and so in the trailer we took with us two bags of golf clubs, two tennis rackets, skin diving equipment, hunting gear, and all of our fishing tackle for fresh water as well as saltwater. We had winter clothes for snow skiing as well as for the summer.