MEXICO MAINLAND TRIP - 1973
Sunset At Playa Esdondida Trailer Park In Mazatlan
This was our second trip to mainland Mexico in May of 1973 with our 19 foot Lazy Daze motorhome.  You may remember reading about our roll over accident on Labor Day weekend with our 16 foot Lazy Daze, and soon after that we ordered the 19 foot and it was ready for this trip.
On our first trip in 1969 we stopped at many places along the way and have detailed this in our story with photos of that trip.  In 1973 we decided to take three weeks off and head to Mazatlan to see what retirement might be like living there for the winter months.
Our plans at that time was to retire early and live full time in a travel trailer and truck-camper combination.  We had plans to spend the winter months in Mexico and the summer in the Western States of the U.S. fishing and sightseeing.
Although we stopped at the same places as we drove down highway 15, we do not have photos of those places, just a few and more of San Carlos and Mazatlan.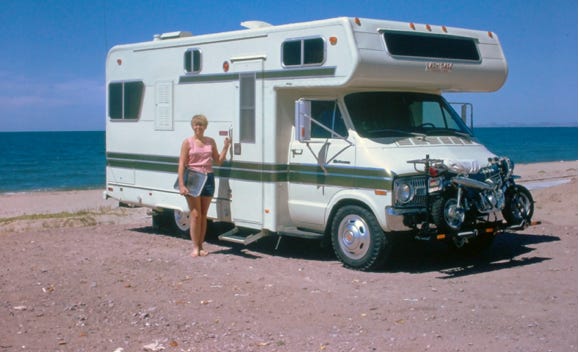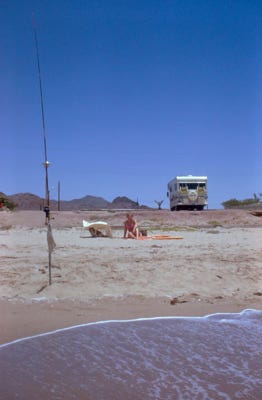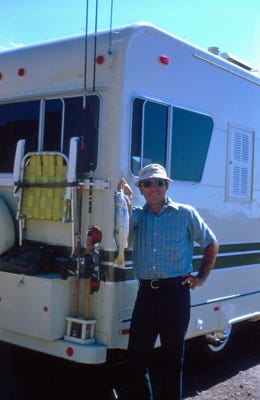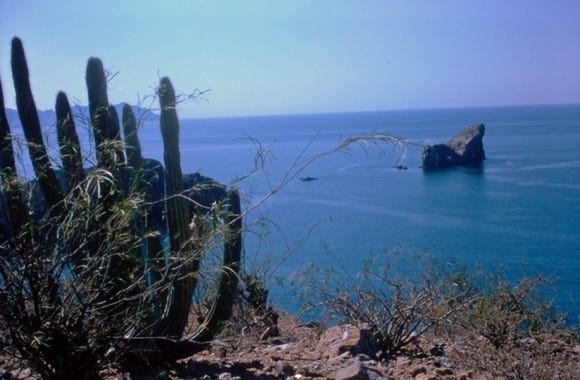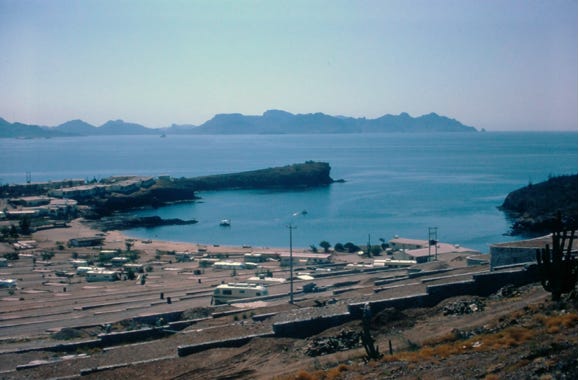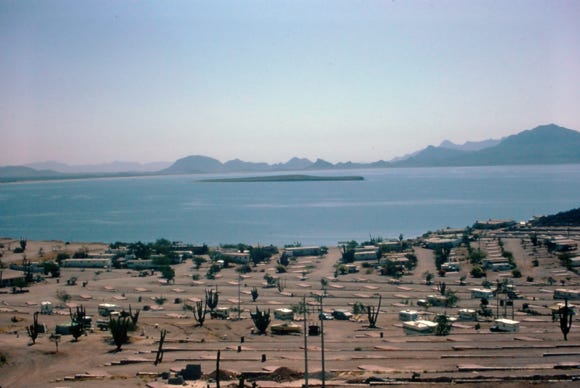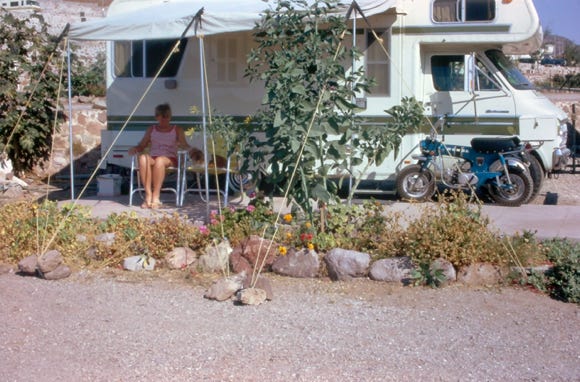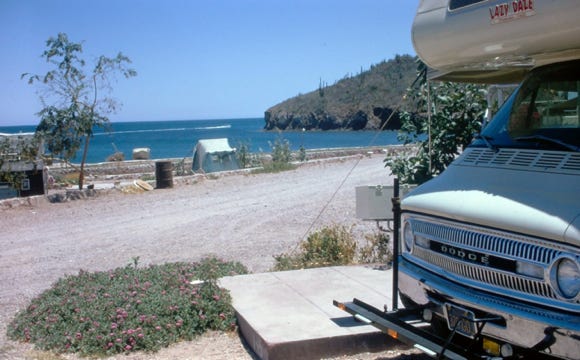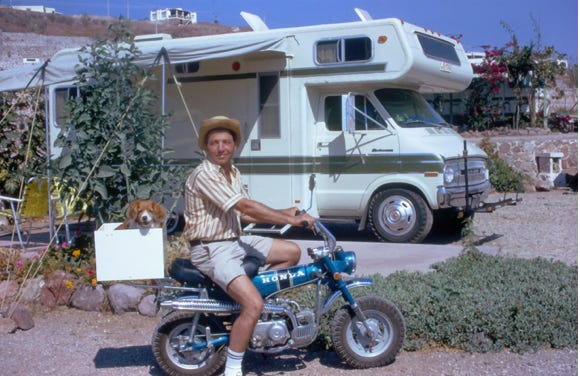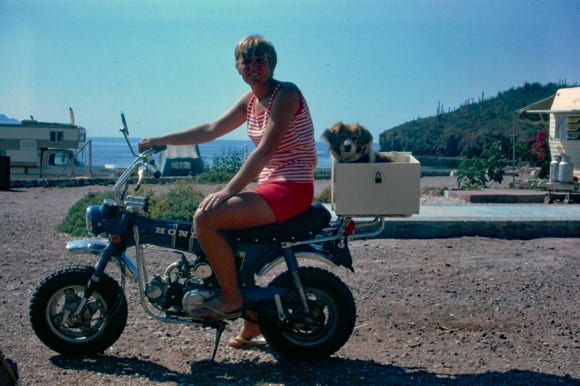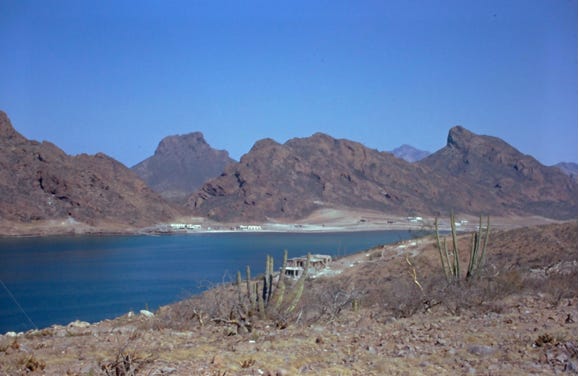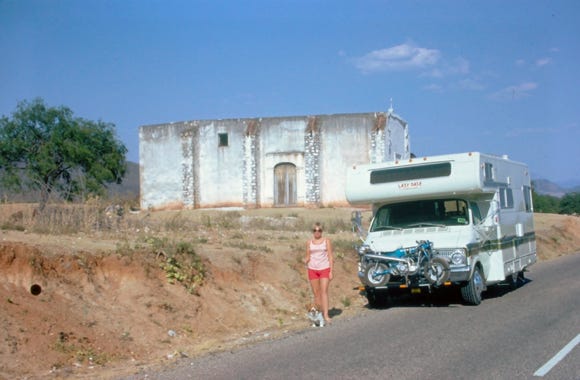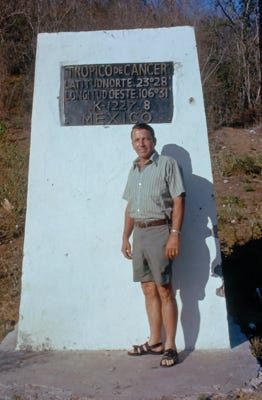 We crossed the border at Nogales and drove to Kino Bay and spent the night on the beach as you can see by the photos.  Bill got out his thirteen foot fishing pole and as Nancy was lying on the beach with Lady under her sunshade he caught a nice corvina. 
These are excellent eating fish and when we fished for them in the Salton Sea in Southern California for so many years with our boat it was one of our favorite spots to fish.  Bill caught a record 25 pound Corvina.
We decided to stay at the San Carlos Trailer Park, a large trailer park with RV sites that are tiered up the side of the hill to provide great views of the area.  In May, it was almost empty as the winter snowbirds had left to go home.
We took our motorbike with Lady in her box and rode around the area exploring.  On several occasions, we went into Guaymas to go to the grocery store for supplies.
A few photos along the way before arriving at Mazatlan.  Bill is standing at the Tropic of Cancer monument, and then we drove south to Mazatlan.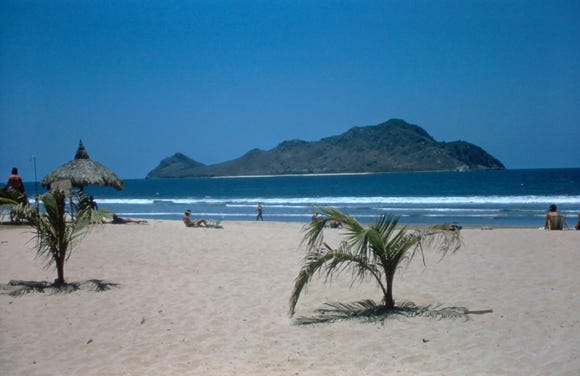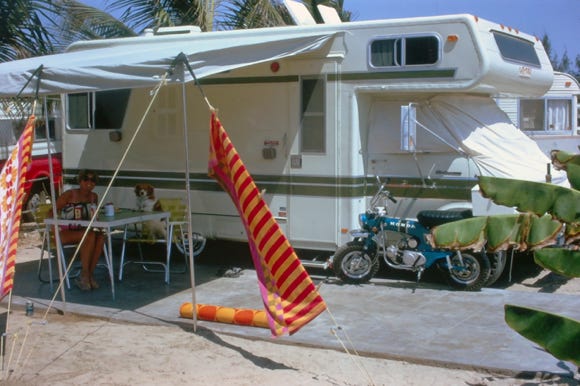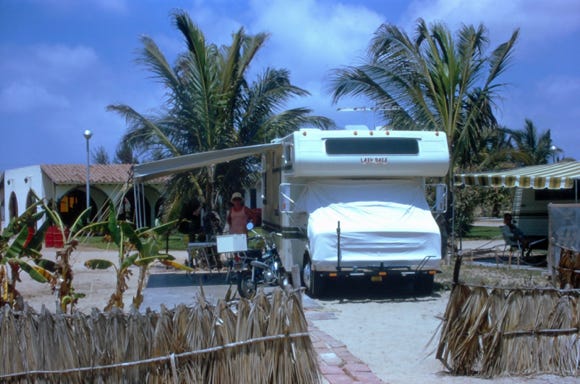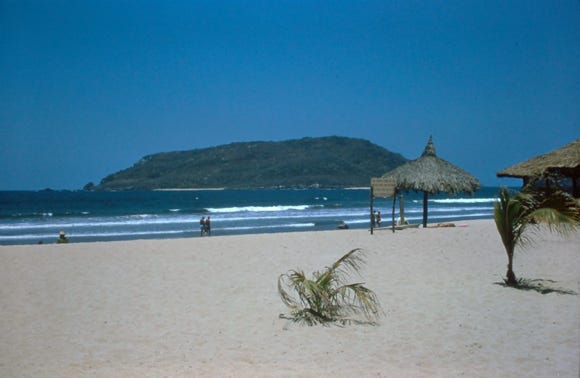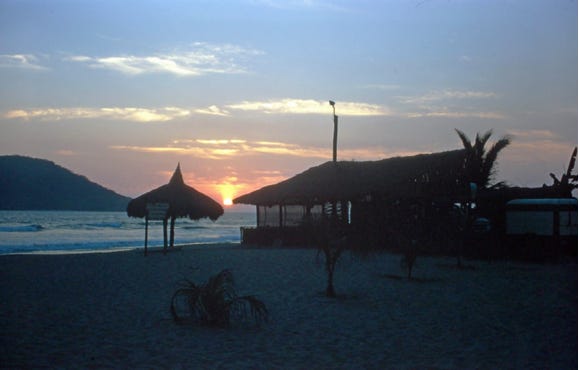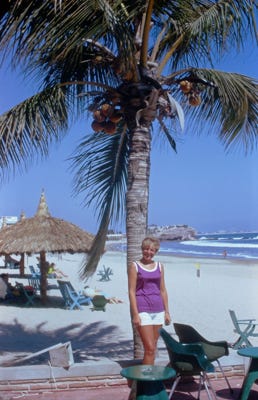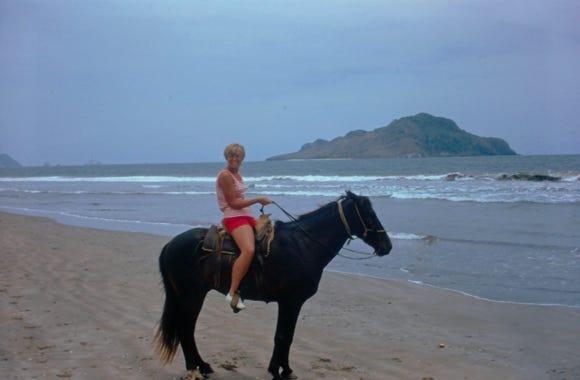 We decided to stay at the Playa Esdondida Trailer Park at the north end of Mazatlan.  This is where we spent a couple of weeks getting to know the area and to see what it would be like living in Mazatlan for the winter.
Our site was right on the beach with a concrete slab and full hook ups.  We talked to many retirees there to get information about retiring in Mexico.  You will see several RV's parked under large Palapas that they constructed.  One gentleman in his motorhome lives there full time along with many others. 
Several days of the week a local man comes by with his red produce cart pulled by his burro.  We bought most of our fresh fruit from him and then went into town on our motorbike to the market to buy other staples.  Bill spoke some Spanish and when we went to the market he said to "Nancy," now its your turn.  I was never good at Spanish and so eventually, he stepped in and got what we wanted.
We took a photo of the land crab that we think was a coconut crab because of its surrounds.
One thing is the beautiful sunsets that we had on our trips to Mexico, a view of the beach and a couple riding their horses along the shoreline.  The next day we decided that it would be fun to ride on the beach, and we rented the horses for an hour ride along the shoreline.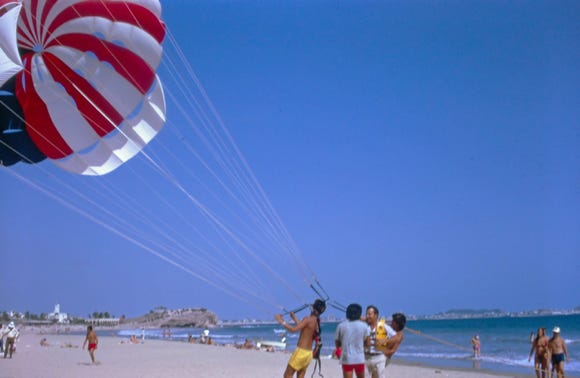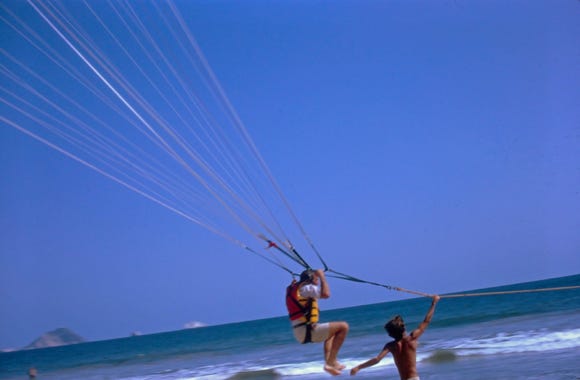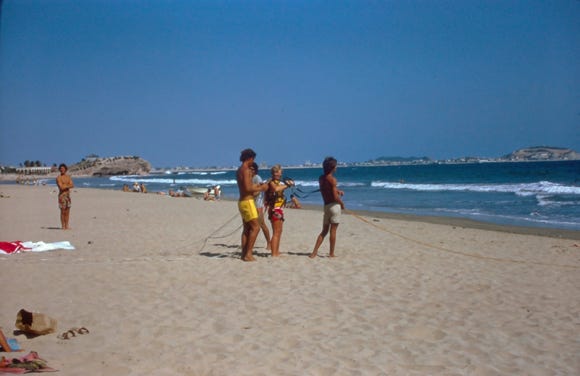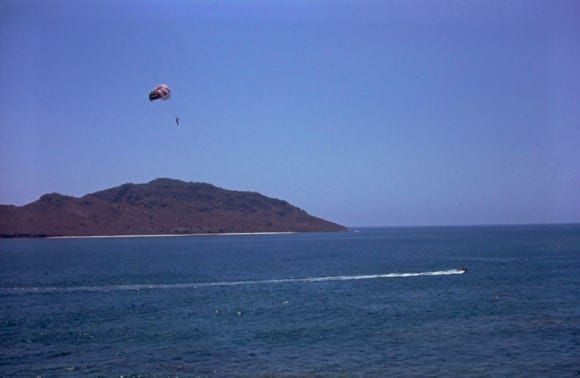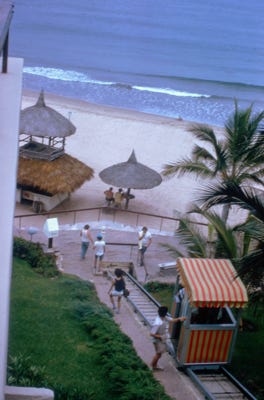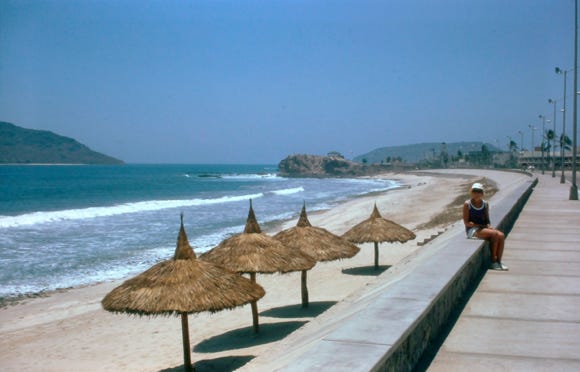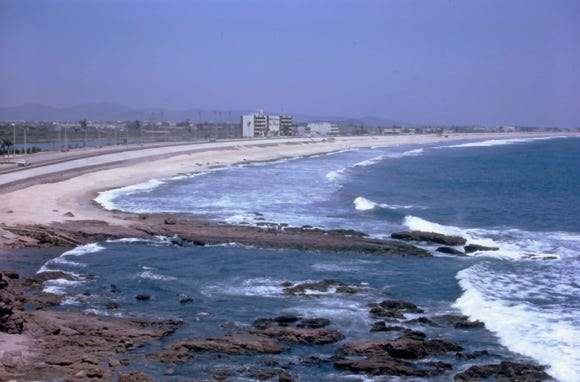 With only two weeks in Mazatlan we wanted to do as much as we could, so the next day we went into town to the Hotel Playa Mazatlan to go for a parasailing ride.  Bill is getting the gear on, and you can see him take off from the beach.  He landed safely, and then it was my turn.  
I am getting strapped into the gear, and Bill took several photos of me high up in the air.  As I was approaching to the landing spot I got off course and was close to the hotel, and that was scary, but I made it safely to the ground.  I told him that I was done with parasailing since I don't like heights!
Taking our Honda Trail 70 along the Malecon a 13 mile seawall with many shops and restaurants along the way.  Views of the beach and local fishermen with their boats on shore.
We stopped to eat at a restaurant that people in the RV park told us about; we order a combination plate of seafood.  It was brought to us on a hot steaming plate with fresh fish, crabs, octopus and other delicacies.  It was fantastic along with Mexican beer; of course.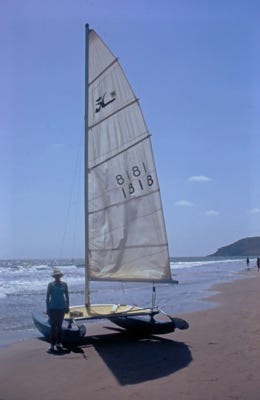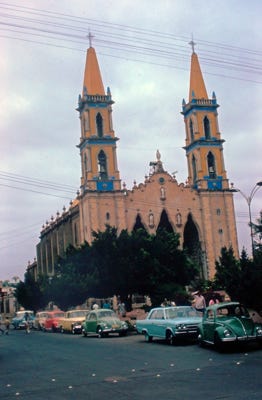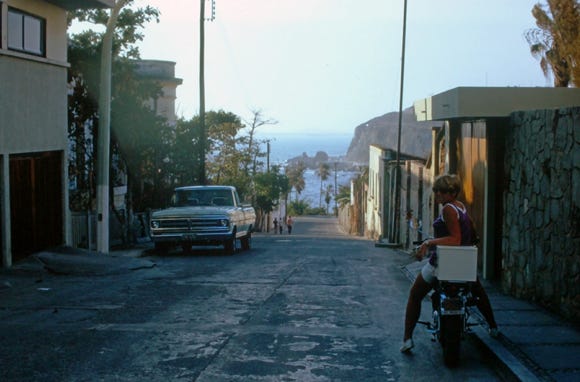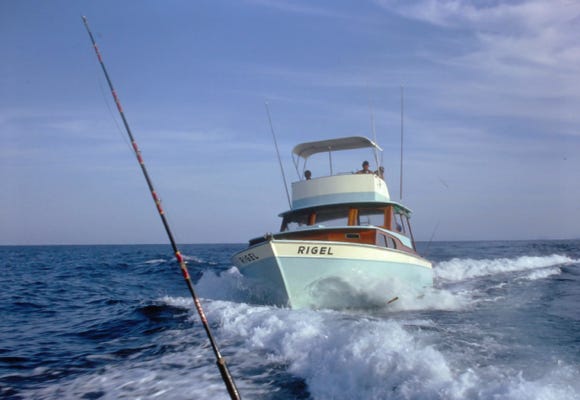 The following day we went back into town and rented a catamaran to go to "Deer Island," also known as "The Middle Island," and is the largest of the three islands facing Mazatlan's coast.  Just 1.43 miles apart, you can rent a catamaran like we did or go on an amphibious ferry boat, or a sailboat. 
After getting back on shore we went to see the cliff divers.  This became popular in the early 1960's, as a bet with a friend.  Mario Gonzales Aguilar took his first leap off of the 45 foot high stone platform into a small area of water with depths of only 5 feet deep.  He continued to make this leap well into his 60's.  
As we continue to explore old town, and pass the famous Cathedral Basilica of the Immaculate Conception that first started construction in 1856, it was finally completed in 1899.  
Nancy is on the motorbike going down the back streets of Mazatlan to the dock where the fishing fleet is.  They booked a guide to take them out the next day to fish for marlin, dorado, and sailfish.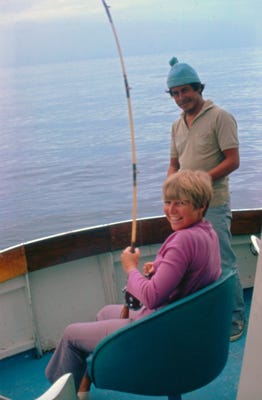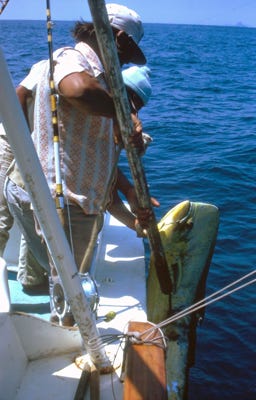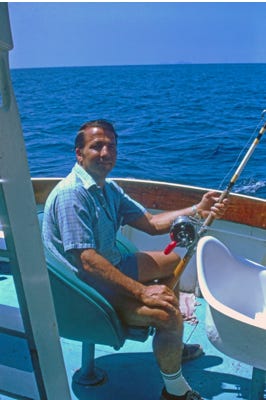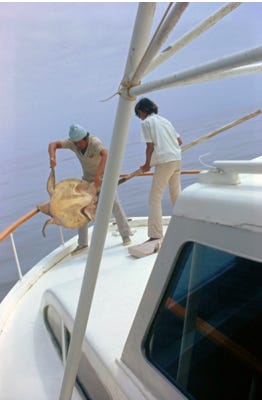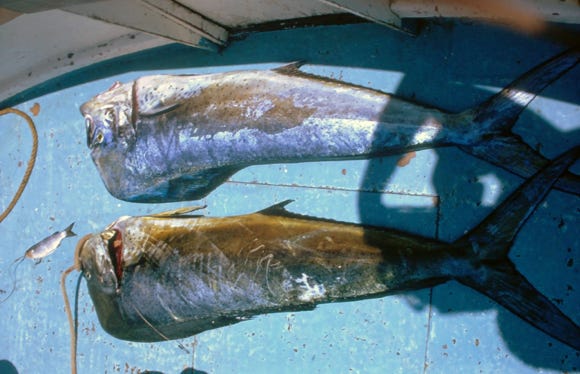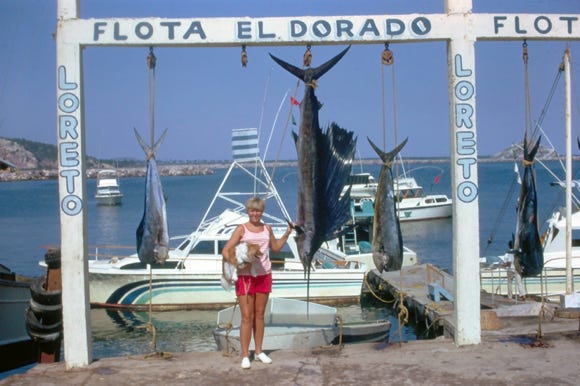 The next day we arrived at the dock and off we go, we caught two dorado's and one sailfish.  The photo is at the Mazatlan docks, even thought is says Loreto on the side of the post by the company's name Flota El Dorado.  At that time when the crew saw a sea turtle they would catch it and bring it on shore to sell to the restaurants for the meat.  
Now Mexico as well as other countries have conservation projects to protect the sea turtles.  There are seven species of sea turtles and six of them are found in Mexico.  The sea turtle mates at sea, and then the female will come to shore at the precise location where they were born to lay her eggs.  
Very similar to salmon who migrate to the stream that they were born in.   As we were, trolling you can see a cruise ship in the distance.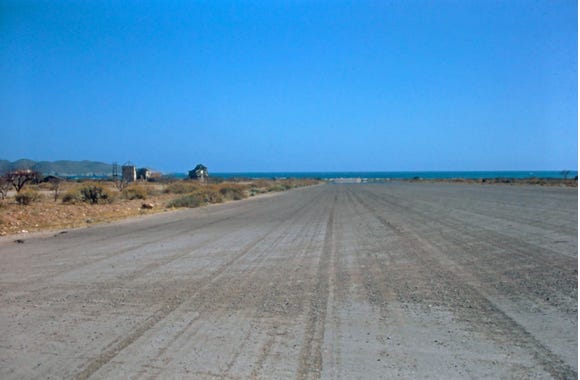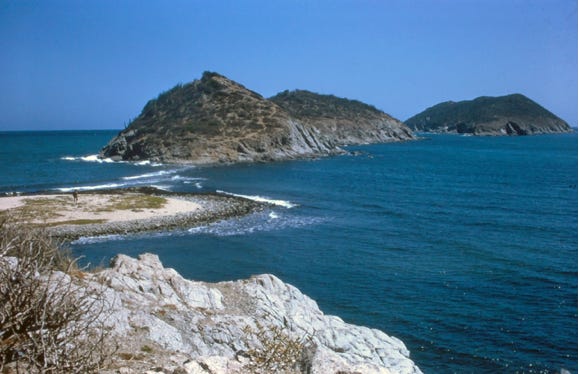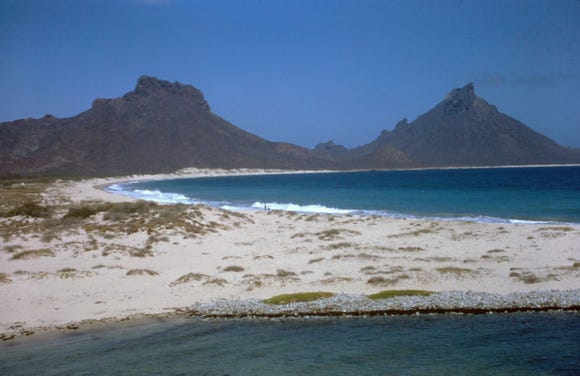 After exploring Mazatlan it gave us an ideal of what the winter could be like, something to plan for in the future.  We leave Mazatlan and arrive back at San Carlos Trailer park and spend a few days exploring the area. 
We took our motorbike to see where they filmed the movie "Catch 22," in 1968 by Kurt Vonnegut's best selling novel based on World War II.  The movie had Alan Arkin, Orson Wells, Martin Sheen, Bob Newhart, and Anthony Perkins.  Other movies filmed at San Carlos were "Mask of Zorro, and Lucky Lady."
You can see the airstrip used in the movie as well as abandoned buildings. 
Along the shoreline, Nancy is fishing off of a cliff, but did not catch anything.  
We leave Mexico and drive back to Southern California, back to work and think about our retirement plans that are several years away.  
On our three trips to Mexico, we meant many great people, always willing to guide us and help us along the way.