MEXICO MAINLAND TRIP - 1969
The Three Of Us On The Beach At Sunset In Mazatlan, Mexico
From the date of this trip, you will see that it was a long, long time ago.  As you know, most of our travels with our RV's were done from the 1960's to around 2005.
We have thousand's of 35 mm slides stored from all of our travels, and sometimes you think about how can we scan these with a flatbed scanner.  We have tried, and it takes a long time and so we never scanned many of these trips.  We though about sending them to a company to scan but that would be too expensive and the way we have these stored they are labeled with a description in order of our trip.
So what did we do?
Nancy got out our old 35 mm projector and decided to show each photo on a wall and take her iPhone to take a photo of the slides.  She did this with 300 slides and in Photoshop made the corrections to each slide.  While this was okay, it was not the quality and sharpness of a flatbed scanner and so she started to research better scanners for bulk scanning but those were expensive.
She came across the digital film and slide scanner made by different companies.  She bought the Kodak Scanza that converts slides and other film media up to 22 MP in digital format.
So she rescanned the 300 slides and back into Photoshop to make corrections, crop and correct the color in Photoshop instead of using the Kodak scanner to make these adjustments and the finished product is really very good.
So come and see what the mainland of Mexico was like in 1969 with our first Lazy Daze motorhome and our first dog "Lady."
We left California in November, 1969 for a four-week trip down the mainland of Mexico, and crossed the border at Nogales Sonora, Mexico.  
Entering Nogales we took a photo of the famous statue "Mono Bichi" killing an eagle, then driving along highway 15 south to Hermosillo we pass by some young boys with their burro's, and a group of kids selling their red peppers.  This is the church of Santa Maria Magdalena in Magdalena de Kino, a cemetery before the town of Santa Ana, and then to the town of Hermosillo.
Driving along the highway, we approach some of the largest Saguaro Cactus that we have ever seen that can grow to 45 feet high.  You can see how small Nancy and Lady are standing next to this large cactus.  Now driving along the coast we are approaching Kino Bay, you will see some homes along the shoreline where American's and others have built their homes.  At that time you could park along the shoreline to camp without any restrictions.
A fleet of shrimp boats on the Sea of Cortez and a view of Tiburon Island.  As we drive the area we see a house built by a Seri family, we bought a hand carved ironwood crab from the family and still have it today.  Along the shoreline, you can see many RV's parked to spend the winter.
Bill and I spent several days at Kino Bay and we surfed fished off of a rocky area and caught a couple of nice mackerel.  Nancy made Ceviche with the mackerel, and it was very good, we also bought shrimp from the boats as they came on shore to sell to the public and they were excellent Gulf Shrimp!
As we continue down highway 15 to Guaymas, we spent several days there exploring and then drove through Ciudad Obregon to Navajoa and spent the night there.  
We heard about a famous Bass lake out of Navajoa and drove the next day to Presa Mocuzari.  We hired a guide to take us out on the lake to fish for Bass and had excellent results.
Now, it is time to head south to Mazatlan, we have allowed several days to explore the area, and to try to do some deep sea fishing for Marlin and Sail fish.
We took a photo of the Olympic bronze statue that was created when they had the Olympics in 1968, then pass the Tropic of Cancer.  Photos of the Del Rey Hotel along with many hotels in Mazatlan that we visited.
We selected the Sabalo Beach Trailer Park just a little out of town and took the bus or a taxi to go into town to explore.  Nancy made pizza one night along with Tecate beer what could be better than that.
You will see many photos of the Playa Mazatlan Hotel, the beach, the shoreline, and monuments.  At one hotel, we fed a Coatimundi, a relative of the raccoon with a long, pointed muzzle and tail.  The Coati ranges from Arizona and parts of New Mexico and down into Baja and central Sierra Madres and Central America.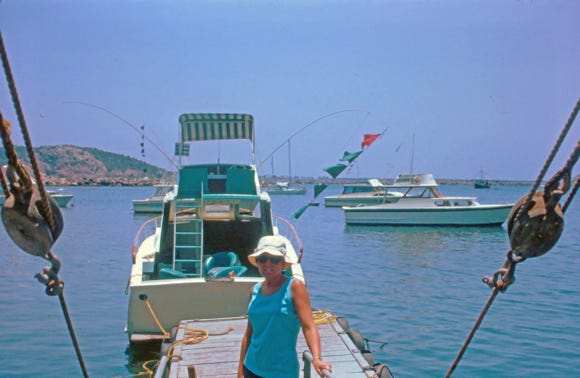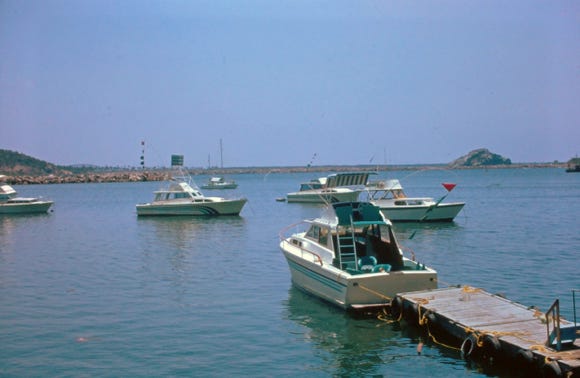 This is a very interesting story, while we were sightseeing, and having a beer at the Playa Mazatlan Hotel we were checking about chartering a fishing boat to fish for Marlin and Sailfish.  While at the information desk a couple came to us and asked if we wanted to join them on their charter, and we said "yes."  
They introduced themselves to us as the actor Christopher George (TV series "The Rat Patrol," he played Sergeant Sam Troy) and actress Lynda Day (TV series "Mission Impossible," she played Lisa Casey) along with her son Nicky.  They were on vacation and were staying at a home of a Hollywood producer in Mazatlan.  They invited us to attend a party that night, and we took a taxi to the producers home.  It was very nice, and food and drinks were served.  Bill and I always watch both TV shows and so we knew who they were.
The next morning we got up early and took a taxi to where the fishing boat was docked and off we went.  We trolled all day and it was slow fishing, but then as Christopher was sitting in the chair the line spun off of the reel, and he had a fish on.  It was a large Sailfish, and he brought it up to the boat and the crew gaffed it and brought it on board.
We did not catch any fish ourselves, but it was nice that Christopher did.  Back on shore it was hung up and weighted in at 90 pounds, a photo of them together with the fish and I had my photo taken as well. 
Chris and Lynda married on May 15, 1970, and had a daughter named Casey, and Lynda's son Nicholas "Nicky" by her first husband Joseph Pantano was adopted by Chris at that time.  While filming on the set of Rat Patrol in 1967 a jeep rolled over on him and another actor, he had multiple injuries with his skull and spine and a chest injury that never properly healed, later causing his heart attack at the age of 52 on November 28, 1983.
Lynda remarried on March 17, 1990 to Doug Cronin who later died on December 4, 2010 from cancer.  Lynda is widowed and is living in California.
A few photos of the shoreline at Sabalo Beach and trailer park.  A cruise ship in port at Mazatlan.  More photos of our motorhome inside and how we stored our fishing poles.  Sunset at Sabalo.
Leaving Mazatlan on highway 15 a photo of a church in Mazatlan, and a village called San Miguel.  We are driving south to the quaint town of San Blas.  Along the way is a green shrine, and an old Alamo, and church.  Another village along the San Cristobal River and to the plaza at San Blas.
We found a trailer park at San Blas and spent several days exploring the area.  A coconut farmer gave us some fresh coconuts.     
The Hotel Hermosa and a view of the ocean.  We saw many large sea turtles slaughtered for their meat, but now we understand that they have a turtle rescue program and turtle farms to bring back the species.  We visited the Kiekari crocodile farm and then back into town for lunch at Torino's bar.
The next day we walked to the beach but when we got there the "Jejenes," small sand flies (no-see-ums) were really bad, and so we decided not to spend much time on the beach.  This is one reason that San Blas has never been developed.
The next day we took the jungle tour to La Tovara National Park, a fresh water spring with mangroves, wetlands, tropical birds, turtles, iguanas, and crocodiles.  This was an all day tour, and we followed the canals to the springs and then back to Matanchen Bay in the Pacific Ocean.  Stopping along the way, we walked through a dense plantation of papayas, and Lady came face to face with a tame monkey on a long rope.
Leaving San Blas we are driving south on the road to Santa Cruz, the road we took was a dirt road at the time (1969) and we entered a beautiful beach called Playa Los Cocos.  It is bordered by a large coconut palm grove; the beach extends north to Playa Matanchen and Playa Las Islitas.  
We spent several days on the beach camping; no one else was here.  We found the owners of the area and paid them some money to stay on the beach.  We did stop and talk to an American who was spending his winter's on the beach.  He paid the family who owns the property so that he could stay there for the winter.
Many photo's of the beach at Santa Cruz and on Thanksgiving Day, Nancy cooked up a ham dinner.  As we drove the dirt road to go to Puerto Vallarta we pass a family doing laundry in the river and then on the highway we saw locals picking vegetables in a field. 
We arrived at Puerto Vallarta and found a nice RV park to stay at.  We drove into town to explore the area and took our laundry to a local laundromat.  Nancy was going to do the laundry, but they said to leave it there, and they will wash and fold our laundry and we could pick it up in a few hours.  We walked around downtown and the marketplace and saw men laying cobblestones repairing the street.  We picked up our laundry, neatly folded for only $5.00 US money.  A photo of the local's doing their laundry in the Rio Cuale.
We then drove to the Hotel Delfin and Los Muertos Beach to have lunch, and we watched people on the beach getting ready to
go parasailing.  Back at the RV park we decided to rent a dune buggy for the next day to drive to Boca de Tomatlan.
Mismaloya beach at that time was very quaint, and the movie "The Night of the Iquana," was filmed in 1963, with Richard Burton, Ava Gardner, and Deborah Kerr.  While filming the movie Richard Burton bought a nine-bedroom villa for Elizabeth Taylor for her 32nd Birthday, Elizabeth was on the set as the movie was being filmed.  They later got married a few months after the filming of the movie.
The next day we drove to Boca de Tomatlan on highway 200 with Lady by our side.  A photo of the Camino Real Hotel Bar and Mismaloya beach.  Along the way, we pass a large rock formation called Los Arcos De Mismaloya: Faithful Watchers Of The Bay.  These small islands are located between Gemelas beach and the town of Mismaloya on the road to Barra de Navidad.  In 1984 it was named a National Marine Park, and this formation was in the film "The Night of the Iquana."  
At that time the road was a dirt road and we had to forge a stream to get to Boca.  A view from the road of Boca de Tomatlan and our dune buggy with Lady and Nancy.  Several views of the bay and wild orchards.  We brought our lunch and while Bill was fishing for bone fish, Nancy, and Lady was relaxing on the sand spit.  Bill had luck and caught a nice bone fish.  
The next day the three of us boarded the boat named "Zorro," to Yelapa about a 40 minute boat ride from Puerto Vallarta, and the only way to get to Yelapa.  A few photos as we were leaving Puerto Vallarta going to Yelapa.  Bill used a water bottle with some fishing line, and Nancy was trolling for fish as they were out in the ocean, but she did not catch anything. 
A view from the boat of the large rock formation called Los Arcos De Mismaloya, and photos approaching into the bay of Yelapa.  The boat was anchored off shore and a skiff took us onto land.
The three of us sitting under a Palapa enjoying some moonshine called "Raicilla," made from the maguey plant it is 100 proof.  We took a burro and rode up along the El Tuito river to see two impressive waterfalls and took a swim.  Nancy kept Lady straddled on the saddle as Bill was taking pictures.  We pass a small home where a woman was making corn tortillas by hand, and we ate several of them.
At the waterfalls, Nancy and Bill enjoyed the cool water while Lady sat under some shade, we were the only ones at the waterfall, now it is a very popular area crowded with many tourists.
Back at Yelapa we went to Steve's restaurant and had lobster and a beer of course, and then boarded the boat to go back Puerto Vallarta.  
Our journey ends in Puerto Vallarta, and we then drove back up the coast to Nogales and crossed the border.  We spent the night at one our favorite spots called the Salton Sea in California.  Bill standing next to our RV on the shoreline of Salton Sea and a beautiful evening sunset.
This was our first trip to Mexico, and several years later in 1973 we drove the same route to Mazatlan, and then in 1976 we drove the Baja Highway to Cabo San Lucas.