Goblin Valley is located between Green River and Hanksville off highway 24. The turnoff to Goblin Valley is about 30 miles northwest of Hanksville on a good two lane paved road. After you turn off highway 24, you would be traveling west for about 12 miles to the State Park Entrance.
At Goblin Valley, you will find a campground with 21 sites that can accommodate RV's up to 30 feet in length. You do not have any hookups, but the area has a dump station and water. The restrooms are excellent with hot showers and are wheelchair accessible.
The park is open year around, and you can call (800) 322-3770 to make reservations for the campground. The best time to visit the park would be in the fall or early spring, since during the summer temperatures can rise to the 90's as we found out. The elevation is 5,200 feet and during the winter there may be even a light dusting of snow on the unusual rock formations making for some fantastic photos.
You can pay a daily entrance fee of $3.00 to go in and drive the scenic loop road to the hiking trails or stay at the campground for a fee of $14.00 a night. We arrived around 4:00 PM in the afternoon and got a campsite and unhooked our boat so that we could tour the area and try to get some evening shots.
As you can see by the photo, the campground space is divided by white stripes on the pavement, which is about 16 feet wide by 30 feet long. You have a BBQ as well as a picnic table, but no shade. We spent the night along with two other campers in the area, talk about uncrowded!
The morning arrived, and it was time to go hiking around all the rock formations. Bill and Nancy drove the camper to the view area, parked and filled their water bottles, put on their large straw hats and away they went. Before leaving they made sure that I had plenty of water and that the windows were opened, and the fans were turned on in the camper so that I would be comfortable in the hot summer's sun.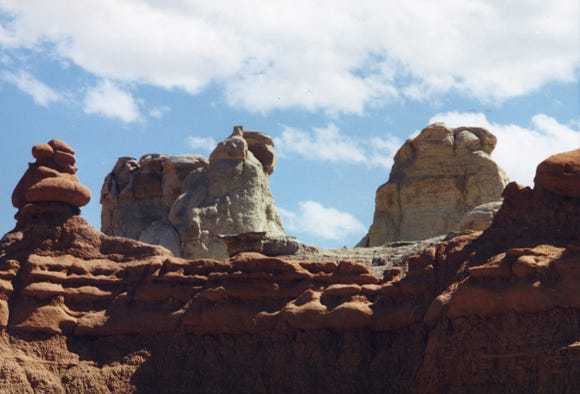 Since pets are not allowed on the trails, I watched them as they walked the Carmel Canyon trail, a 1.5 mile loop trail that takes them down into the "Valley of the Goblins."
The "Goblins" were created over 160 million years ago, and with wind, rain and erosion created some of the best "eerie" formations that one could imagine. Needless to say, Bill and Nancy shot many rolls of film along with their camcorder to capture the moment, as the sun created different shadows on the rocks. Bill and Nancy came back to the camper several hours later, and we all sat in the camper eating lunch and looking out at the fantastic scenery.
When we were there we spotted a crew of photographers setting up their equipment and Bill and Nancy asked what they were shooting; they said, "That they were shooting a fashion layout for a magazine and that the models were inside the air conditioned motorhome." I thought to myself, boy wouldn't it be nice if we had an air conditioner, but soon reality sets in as the portable fan blew warm air across my face.
After lunch, Bill and Nancy decided to go for another hike, while I took another nap. This time they decided to hike the Curtis Bench Trail a 3 mile loop trail that takes you to a viewpoint of the Henry Mountains.
If you look closely, you can see Bill standing on top of the rocks and his hand is leaning on the large rock formation in the background, as though he is trying to move a mountain!
As they continued hiking and taking pictures along the way, I remained cool and comfortable in the camper, patiently waiting their arrival.
A few hours later, Bill and Nancy came back to see me, and after a long day of picture taking and hiking, we drove back to the campground to spend another night. As Nancy was cooking dinner, Bill raised the DSS Satellite antenna on the camper roof and we settled in for some TV watching.
Bill and Nancy did not bring their mountain bikes, but if you do, you can only ride on the paved loop road in the park, and outside the park there are many four wheel drive roads that one can explore.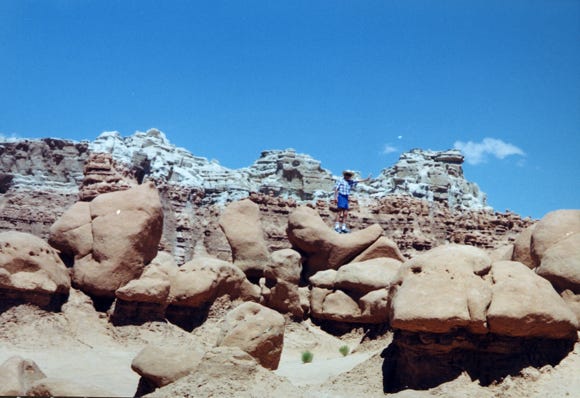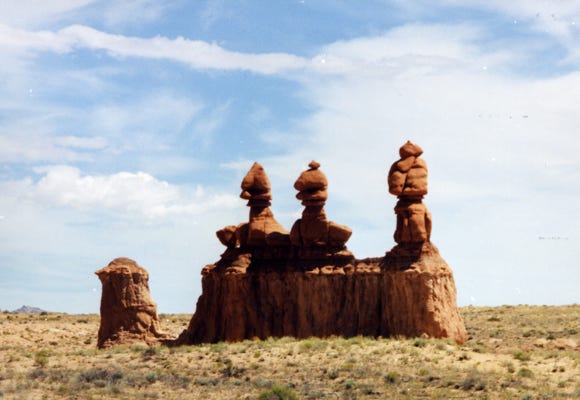 If you're traveling by car, then the closest facilities for lodging, food, gas, and supplies would be to go south back to Hanksville which is 30 miles away, or head north to Green River, which is 35 miles away.
After a good night sleep, we awoke to another beautiful day and a decision of what next lies ahead on our journey up north. After breakfast and a nice hot shower, Bill and Nancy proceeded to the dump station to "regroup" as they put it. What this means is emptying holding tanks and filling water tanks and we are on our way.
We left Goblin Valley and said to ourselves that we were glad that we finally got to stop here and see such a scenic place. As we drove out of the park, Bill, and Nancy just had to stop and take another picture. You know what they say, "A picture is worth a thousand words" and we have a lot of pictures to prove this.
If you're in southern Utah and want a special place to visit and hike among the "Goblins" then this is the place to go. If you saw the 1999 movie called "Galaxy Quest" with Tim Allen and Sigourney Weaver, it was filmed in Goblin Valley.
As Iie in my bed on the front seat between Bill and Nancy, I am wondering, where are they taking me and what will I see, all I can say is, "Come travel with me, and here is what you will see."
 Contact Information:
Goblin Valley State Park
P.O. Box 673
Green River, UT 84525-0673
801-564-3633
Other Places To See:
Arches National Park: 97 miles east, 801-259-8161.
Canyonlands National Park: 121 miles east, 801-259-7164.
Capital Reef National Park: 74 miles southwest, 801-425-3791.
National Bridges National Monument: 135 miles southeast, 435-692-1234.
Recreation Areas:
Glen Canyon NRA (Lake Powell)
Hite Marina: 80 miles southeast, 801-684-2278.
Bullfrog Marina: 106 miles southwest, 801-684-3000.
Recreation Vehicle Parks:
Green River, Utah
Green River KOA, 800-562-3649.
Shady Acres RV Park, 800-537-8674.
United Campground, 435-564-8195.
Hanksville, Utah
Red Rock Restaurant and Campground, 800-452-7971.