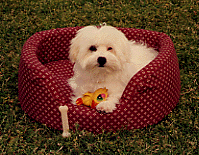 I am 5 months old now!                          Overton Beach at Lake Mead                     Striped bass for dinner tonight!
As you can see fishing was very good. In April the temperatures can average between 80 to 90 degrees and as the water warms from the cold of winter fishing gets good! We boated all over the lake, but as Bill and Nancy have found out on many of their trips to Lake Mead, the weather can change and the winds can come up quickly. They have now set a 5 mile limit in their smaller boat because of the changing weather conditions, this way they figure that they can still make it back to shore when the winds come up.
We spent two months at Lake Mead fishing, sightseeing and riding on the motorbike exploring the shoreline and hidden coves. Lake Mead was created by the construction of Davis Dam also known as Hoover Dam and was completed in 1936. The dam is 727 feet high and created one of the world's largest artificial bodies of water. The lake is 115 miles long and over 580 feet deep. It supplies water and electric power too much of the Pacific Southwest and is one of the tallest concrete dams in the world.
One day we made lunch and drove off in the camper to see the Valley of Fire State Park by Overton. This is an area with large red sandstone rock formations in the Lake Mead Recreation area. The sandstone rock formations have been weathered over the years creating different looking stone figures, such as, the elephant rock which resembles an elephant's head. You can hike along the trails and see the different formations as well as an underground pool of water from a spring with lush green vegetation.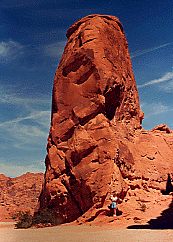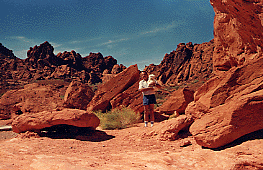 These are some of the many rock formations in the Valley of Fire State Park in the Lake Mead Recreation Area
We had a great time at Lake Mead, and it was time to head north, but before we were to leave, I found out that I would have surgery to get spayed, something that I was not eagerly awaiting but knew that this should be done. Bill and Nancy took me to the Wayne Newton Ranch; you know the famous singer in Las Vegas! Anyway, he has a large ranch out of Overton, Nevada, and has many beautiful horses, so as you can imagine he has a staff of several vets there that care for his horses as well as serving the public's needs. I had my surgery there and in a week we were on our way, just in time since the temperatures were climbing into the 100's.
We towed out and headed on Interstate 15, climbing in elevation to the cool breezes of 6500 feet, boy, does that feel good! As we were driving, again Bill heard the rear axle noise and so we stopped at St. George, Utah, and went to the Ford agency. They drained the fluid and inspected the rear axle and found some metal shavings in the housing. The mechanic said, "That it was probably just wear and that with new fluid everything should be all right." Again, we preceded north and arrived at one of Bill and Nancy's favorite places, Beaver, Utah. We stayed at a local trailer park and as we were unhooking the trailer we again heard the noise! Now, we knew that we have a major problem, so Bill got on the phone and called around to a few nearby towns to see whether anybody could take care of the problem. They all recommended to go to Salt Lake City and go to one of the largest Ford agencies called Rick Warner Ford. Bill called them and made an appointment for the following week. In the mean time, we drove to Minersville State Park, a place that Bill and Nancy like to fish at. We did not fish there, not enough time and Bill and Nancy did not want to buy a license just for one day.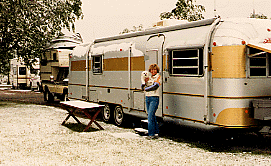 We stayed at Beaver through Memorial Day and on one cold morning, I woke up and saw something that I had never seen before, white fluffy stuff called snow! Nancy put on my pink sweater (of course, it has to be pink) and we went outside. What a change from last week where we were baking in the desert at over 100 degrees and now in the cold of 30 degrees.
We had several days of cold, snowy weather and then the sun came out and melted it all away. Lucky it was just in time since we were going to leave for our appointment at Salt Lake City.
We arrived at Salt Lake City and found an RV park, unhooked for the night and then drove to the ford agency. After the mechanic inspected the rear axle, it was not good news! It seems that when the other ford agency saw metal filings in the axle housing that this was really a major problem. He said,"The rear axle gears were stripped and that it scored the axle, along with finding out that the rear brakes were worn and one drum was scored beyond repair." Bill and Nancy do maintain their truck and had the rear brakes inspected a year before, but the damage was done and now came time to fix it. The service manager said, "They would call around to find a new or used axle, gears and other parts needed for the repair," and then he drove us back to the trailer park. It was very warm, and unfortunately, the trailer park did not have adequate power to run the air conditioner, you must have 110 volts or that can ruin a compressor, we had only 103 volts and did not want to take a chance.
The next day the service manager called and said, "No one in Salt Lake had the parts, not even Las Vegas, and so he will try wrecking yards." Another day passed, and he called again and said," That nothing was to be found!" We said, "That we had reservations at Alberta for the Calgary Stampede and needed to be there by July 1st." He said, "That he would do everything he could to find the parts needed." He called back and said, "That a new axle was being shipped from the Ford factory and that it would be there in a few days, but that it was not posi-traction." We said, "That was all right and if it was the proper axle to fit the truck to put it in and new brakes, and a new drum." The parts came in, and the repairs were made and the only other bad news was that it cost us $2000.00!
We highly recommend Rick Warner Ford in Salt Lake City for getting us out in time to get to the Stampede and there mechanic's, and the staff was great. With some time to spare we headed up north on Interstate 15 to explore another fishing spot. We arrived at Salmon Falls Creek Reservoir.
We left Salt Lake City and headed north on Interstate 15, turning west on highway 80 to Wells, Nevada and then north again on highway 93 to Salmon Falls Creek Reservoir in Idaho. The reservoir is about 20 miles south of Twin Falls. There is camping around the lake and it is under the BLM with free camping available. When the lake is full, it has 40 miles of shoreline. The lake was constructed in 1911 and is used as an irrigation storage reservoir. There is year-round fishing, and camping as well as bird watching. With the good variety of game fish in the lake, there is something for everyone. There is Rainbow Trout, Kokanee, Small mouth Bass, Crappie, Perch as well as Walleye.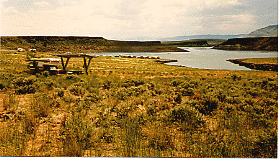 We did not fish the reservoir, since we still had many miles to travel before getting to Alberta, Canada. We spent the night there, and then the next morning headed north on highway 93 to highway 30 to Interstate 84. We turned off the interstate at Boise, Idaho, and proceeded north on highway 55 to the town of Cascade and Cascade Lake.
We had decided as we were driving up to Cascade Lake that we would leave the trailer there for several weeks, and just take the camper up to the Calgary Stampede. We knew that it is a busy time in Canada and by not taking the trailer with us we could be more flexible about getting into smaller campgrounds or park off to the side of a paved lot. We spent several days sightseeing the area and then loaded up the camper with clothes, food and supplies for several weeks for our adventure up north into Canada.
Along the shoreline of Cascade Lake is a City Park. At the time we visited the area, you could stay at the City Park for two weeks.
You had to be self-contained, but they did have water and a dump station. The area had many trees which was nice during the summer's heat, and you could walk down to the shoreline to fish off shore.
The reservoir covers 30,000 acres, and was constructed by the Bureau of Reclamation in 1940. It is a popular area and is heavily fished. At the time we were there most people were catching trout and yellow perch.
As you can see by the picture on the right, we drove up north on highway 95 and saw the White Bird Grade.
It was constructed in 1915 and was used for 60 years as the only north-south access for Idaho. It has 37 switch backs gaining over 4000 feet in elevation in 14 miles.
The new road that we were on was completed in 1975 and is 8 miles long with 7% grades. This is a very scenic area going through McCall and on to Grangeville. We turned off and drove on highway 12 to Missoula, Montana, very scenic.
I always say, " That a picture is worth a thousand words." I have heard this phrase before, and I am quoting it. That's why you will see a lot of pictures, as I am writing about my travels.
Bill and Nancy will usually scan postcards or brochures to see whether a place looks interesting, and sometimes one look at a photo will point them to a new and interesting destination, and other times they have saved many miles of going out of their way because the photo showed that there was nothing much to see.
For example, the photo to the left shows what a scenic river this is and what a great place to fly fish, doesn't it!
This is on highway 12 going east to Missoula, Montana. It is the Clearwater River and the Middle Fork.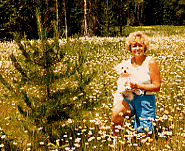 As we continued north on highway 93 to West Glacier we passed a field of white daisies, and I just had to have my picture taken there.
On further we saw several rafters, on the middle fork of the Flathead River.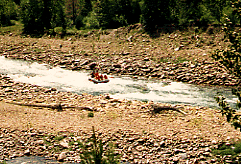 Throughout our trip up north to Canada, we stopped at several campgrounds along the way, some were private parks that we stopped at so that we could get water, dump holding tanks, shower and do laundry. Then other times we stayed in forest service campgrounds, roadside rest areas, or truck stops.
We arrived at West Glacier and went into the Park Headquarters building and got brochures and maps of the park. Bill and Nancy had driven the "Going to the Sun" road 8 years ago but thought that it would be fun to drive it again until they saw the traffic backed up and then decided that it would be faster to take highway 2 over to East Glacier Park instead.
Glacier National Park is actually two parks, one part is in the United States and the other is in Canada. In 1910 the United States created Glacier National Park and in 1932 the United States and Canada with a joint agreement created the Waterton-Glacier International Peace Park which is under separate administration.
There are over 50 glaciers in the park, and at one time many years ago these formed a larger system of glaciers. One of the largest glacier's is called Grinnell Glacier and is 1 1/2 miles long and 1 mile wide, and in some places it is over 500 feet thick.
The highest mountain in the park is called Mount Cleveland and is over 10,400 feet in elevation. There are over 250 lakes in the park, some of the most scenic are St. Mary Lake which is 10 miles long, surrounded by mountains and the largest lake is 11 miles long called Lake McDonald. The smallest lake is Swiftcurrent Lake. As you drive the mountain roads you may be lucky enough to see Mountain sheep and goats, as well as bear, moose, deer, elk,, and more. The stream fishing is good for cutthroat trout, brook trout, and whitefish. As we were driving around one day we saw many wind surfers on a lake riding the waves, of course with wet suits on. There are many nice campgrounds, trails to walk and breath taking scenery.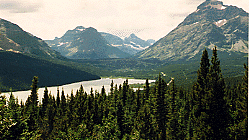 To the left is Two Medicine Lake on highway 49 in Glacier National Park, it was a stormy day with rain and hail.
To the right on the same highway we saw this odd bloom, we stopped and walked up to this, what we thought was a flower, but it turns out to be a fluffy ball of white fluffy puff balls, there is no other way to describe this bloom. It is called Bear Grass, very unusual.
That evening we arrived at a campground in the park, Bill and Nancy took showers,, and did laundry as I slept in the camper. They call it "regrouping." They filled the camper water tank and emptied the toilet getting ready to cross the border the next day.
We had heavy rain, lighting, and hail that night, but luckily we were parked under some big pine trees that protected the camper from any bad hail. The next morning came, and we headed up north on highway 89 to the Port of Del Bonita on the Canadian border, as Bill was driving we heard on the radio that the town of Lethbridge was hit by large hail and even a tornado was spotted in the area! We crossed the border and was in Alberta driving on highway 2 when we heard another warning for bad weather approaching, we saw the clouds and the wind was strong so Bill and Nancy decided that they still had a few days to spare and that it was not worth getting the camper bombed with hail, that they decided to drive back, and spend another night under the big pine trees in Glacier Park. You may think that why do this, but they felt that it was best to be cautious than get into a bad situation, so back across the border they went, and the look on the border patrol's people's faces was (what odd people we are). As we approached the campground the rain and hail hit, we got under a big pine tree and spent the night, glad to be out of what could have been a serious storm.
The next day came, it was beautiful, warm, and sunny, and not a cloud in the sky. Bill and Nancy were glad that they made the decision to camp another night before crossing the border for a second time. They crossed the border and headed north to Calgary, Alberta. As they approached downtown they saw a mall on the right hand side of the road and saw many campers, trailers, and motor homes parked in the lot. They turned off and drove to the Southland mall and asked the campers if it was all right to spend, the night, the campers said that because of the heavy crowds of the Stampede Days that the city allows self-contained vehicles to camp there. It turned out to be a great choice since we were close to the light rail system and downtown Calgary. We registered at the Easton Information Center (they want campers to register there giving their vehicle license number and the number of days that they plan to spend there). There is no charge, and you're on clean pavement with water nearby.
As we ate our lunch in the camper, we heard on the radio that a tornado did touchdown at Saskatoon, Saskatchewan, and that severe damage occurred at Taber which is northeast of Lethbridge. In fact, on the radio, they said to be sure to file your insurance claims for the damage that had occurred. They also said this June was the worst month on record for tornados, with 20 tornado warnings and 130 severe thunderstorm warnings in Alberta! Bill and Nancy were glad that they did postpone driving up on that stormy day after hearing this. It's best to be safe than sorry!    
Bill and Nancy decided to walk over to the mall to look around that afternoon, as they were walking by a jewelry store, Nancy's eyes brighten up and she said, "Oh, let's go in and look around." You see, several years earlier when Bill and Nancy were traveling in Alberta, to be specific Banff, Lake Louise, and Jasper they came across a very unusual stone called an Ammonite. This actually is not a stone, but an extinct marine mollusks with a coiled shell made up by a series of chambers. Ammonites are members of the cephalopod class, which includes nautilus, squid, octopus, and cuttlefish.
This shell is over 400 million years old, and there are only a few places in Canada where it can be mined. The Canadian government will only allow so much to be mined a year and the main area that this shell can be found are in the Lethbridge area.
Since the shell is fossilized and buried deep in the soil the changes that take place on the shell are resulting from the mineral content of the soil, so that when a small piece or shaved section is mined, it is then cut and capped to protect the delicate surface and is then made into rings or necklaces. This is similar to an opal but with brilliant colors when the light hits the surface. When Nancy was at Lake Louise, she bought a loose stone (I will call it a stone because of the finished product) to take back with her and would have it made into a ring. After that trip when she was back home, she took it into a store to get a price of a setting. The jeweler said that this is very fragile and would not guarantee if the stone were to crack when he mounted it. Nothing would stop Nancy so she called long distance to Calgary and found the company that mined her stone. They sent her several pictures of rings that her stone could be put in, and she chose one and mailed the loose stone to the company. A few weeks later she got her new ring, and it has been a beautiful piece to wear. Anyway, back to the mall, as she was looking for a possible necklace to match her ring, she said, "Boy have the prices increased from several years ago." Bill suggested that when they go into town to stop by the company that made her ring and that they may have exactly what she wanted, what a great idea.
The next day arrived and off they went looking for a necklace to match her ring. They boarded the light rail train and off they went. They found the company and found the perfect match and then off sightseeing and exploring downtown Calgary.
The light rail was very convenient as it took them throughout downtown and back to me, patiently waiting in the camper!
Again, "A picture is worth a thousand words." To the left is a picture of our camper parked in the mall.
To the right is an overview of the many campers that took advantage of the great hospitality of the Canadian people, allowing us to stay there while we enjoyed their wonderful city.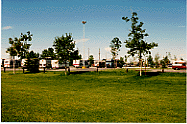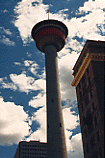 The picture to the left is of the Calgary Tower, its 191 meters high and is 1,228 meters above sea level.
As you can see by the picture to the right, the view of the city is spectacular!
In 1967 Calgary upgraded their downtown area, keeping a bit of old history along with adding newer more modern high rise buildings. As you can see, the picture to the right is of the old City Hall a very traditional building, but in the background is the newer high rise building which now is the location of the new City Hall along with other government buildings.
Calgary was the center of the Canadian's meat packing industry until oil was discovered in 1914, making Alberta a very rich province.
In the late 1800's the ranchers put on an agricultural exhibition that later combined it with a rodeo, which in 1923 was called the Calgary Exhibition and Stampede, a 10 day event.
The Olympic Saddledome was built in 1983 for the cities Olympics to be held in 1988 as well as the stadium for the Calgary Flames.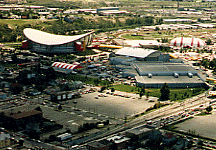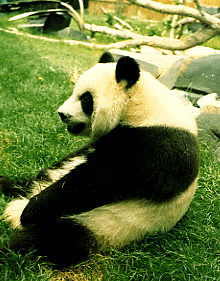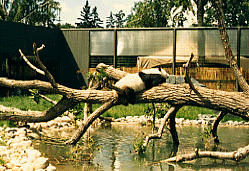 After they toured the city, they decided to take the light rail over to the Calgary Zoo. The zoo has more than 1,400 animals, they spent several hours there walking all over looking at all of the animals and interesting displays.
One highlight of the zoo was to see the Panda's from China. The first Panda is called Qun Qun and the second Panda is called XI XI. When they saw these Panda's there were only 1,000 left in the world, but I am sure that by now the number has decreased.
After a long day of sightseeing, Bill and Nancy came back to the camper, Oh, what a relief to see them, if you know what I mean! Anyway, we spent the night at the free parking lot, and the next morning we drove to a trailer park to get regrouped for the Calgary Stampede.
Bill and Nancy had made some calls several weeks earlier and had found that the KOA trailer park still had some spaces left to rent along with tickets to the Stampede. Bill and Nancy first thought about booking with a caravan for this trip because it would include your RV space, tickets to all the events and transportation along with other sightseeing tours, but as I said earlier Bill and Nancy like to do things on their own and chose not to go with the caravan. The KOA park as well as other parks usually buy in bulk, tickets and seats for the parade as well as the rodeo, so if you get here late, there is still a chance that you will be able to attend the events. You may not have the most expensive or best seats, but they found that their seats were very good for the rodeo and other events.
One thing I must say is that if you're not sure about doing this by yourselves, a caravan is an easier way of doing things because it's all done for you. There are many caravans to choose from, and the best thing is to look in the RV magazines and talk to people about their experiences using a caravan group.
When Bill and Nancy arrived at the RV park, they had several days to pick from as far as morning shows or afternoon shows for the rodeo. They bought their tickets and were set to go. The RV park provides several buses to take everyone downtown to see the parade and then to the rodeo. As you can see by the several pictures, there are many people attending the parade as well as the rodeo. A parade would not be a parade without horses, dancers, and floats.
The weather was perfect, no storms in sight, what a relief," perfect for picture taking," Bill said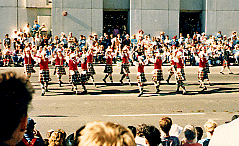 The Calgary Stampede is a half-million dollar rodeo!
Professional cowboys come from all over the world to compete in this 10 day event, from roping, barrel racing, riding bulls to bucking broncos, this has it all, so much to mention including entertainment and refreshments.
The Chuck wagon races are a highlight of the event. Four different teams compete at a time going around a figure eight course to see which team comes in the fastest. It's exciting to watch, especially at the speeds that they are going.
Then there is the wild horse race. A large group of wild horses are released into the stadium, and the cowboys try to rope them and bring them back to the finish line.
And if this wasn't enough going on, above the hill behind the stadium there was a hot air balloon race on Scotsman Hill!
After the parade, Bill and Nancy came back to greet me again and brought me a treat. I forgot to mention that usually when they leave for an extended period of time they usually bring me a little bite of food that they have saved from their lunch. I eagerly await this; it's my special treat! After spending several hours with me, they got ready to go back into town to see the evening show and the fair attractions. They got back at midnight after a long evening in town.
The next day they again boarded the bus to see the afternoon rodeo show and came back with more treats for me. The trailer park provides rides into town for a small fee, so you always have transportation to and from town. A great way to see all the events and not have to drive your vehicle into town.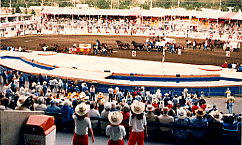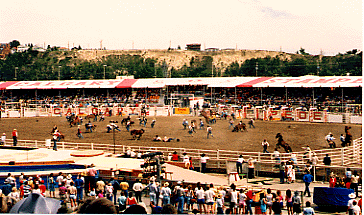 After several days of sightseeing and the rodeo, you would think that Bill and Nancy would take a day to rest and relax, yes! But no, it was off to explore another part of Alberta.
As you can see they went to the Olympic Park, which has all the flags of the countries that took part in the 1988 Olympics and the Hall of Fame.
Also is the large 70 and 90 meter jump site for the ski jumping competitions as well as other Nordic events.
And last is the Luge course at the Olympic Park, look and see whether you can pinpoint the person laying down in the tunnel.
During the summer they were allowing people to ride down the luge course for a charge of about $15.00.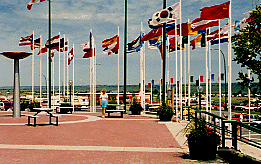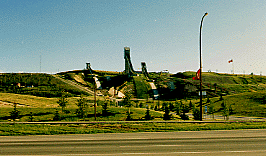 After spending several hours at the Olympic Park, Bill and Nancy decided to drive south on highway 2 to Fort Macleod. This is about 150 miles south of Calgary. Before they got to Fort Macleod, they saw a state transportation park; these are scattered through out the province of Alberta. The parking area is free, and it provides a safe place to spend the night. They usually have picnic tables, water and even a dump station.
The next morning Bill and Nancy drove to a place (you will not believe this name) Head-Smashed-In Buffalo Jump.
As you walk up the long trail to the museum, you will pass an area where you can see a 30 foot high cliff where buffalo were driven to their deaths by the Indians.
The story goes this way, between 3600 BC, and into the mid-1800's the Indians would gather large herds of buffalo and make them run to the cliffs area, and not being able to turn back they fell to their death. Below the cliffs, the Indians would be waiting to butcher the buffalo for their meat, hide and bone.
It was about 150 years ago that a young Indian brave was waiting under the cliff to witness the buffalo jumping to their death. As he was watching the buffalo cascade pass him, one after another the stack was getting so big that he became trapped against the rock wall and as more and more buffalo piled up on top of him his head became crushed. When the Indians came to butcher the buffalo, they found him with his head crushed in.
The Blackfoot Indians renamed this place Estipah-Sikikini-kots, meaning "where he got his head smashed in."
This is one of the largest and best preserved jump sites around and well worth a trip to see such a spectacular place.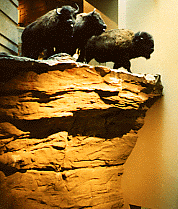 After viewing the buffalo jump we headed back to Fort Macleod to visit the famous Fort Museum. In 1874 the North West Mounted Police established their first outpost in Fort Macleod. This facility features the history of the RCMP, Native Indians and the early settlers of the area. In the summer months the Mounted Patrol Musical Ride can be seen four times daily.
Bill and Nancy still had some Canadian money left, and it would be silly to exchange what little they had at Fort Macleod, that they decided to stop by a bakery and buy some sweet, yummy donuts and stuff. As we nibbled on them driving across the border back into the United States, I heard them say, "What a good trip this was, but now it's back to the trailer and time to go fishing!"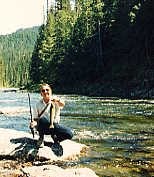 We spent the night at a campground in Columbia Falls, and then the next morning off we went. We took the same route south and passed Missoula and decided to fish off highway 12, between Missoula and Kamiah, Idaho. I mention this because as we were driving up to the Stampede we saw this great stretch of river, and Bill thought that would be a good place to stop and fish as we came back from our trip up north.
Bill stopped and decided to buy a one day fishing license, while Nancy and I decided to watch him fish the river.
Bill had good success fishing the Louhsa River, he caught 5 fish, keeping this nice one for dinner. Then, it was off to Kamiah to spend the night and regroup again.
The next morning we took off and drove back to Lakeview Trailer Park in Cascade, remember this is where we left the trailer. We stopped along the way at McCall and other fishing spots along Cascade Lake to check how the fishing has been because Bill and Nancy wanted to launch their boat to fish the lake. The reports were not good, the fishing was slow, and they had a die off of perch in July. After getting this report Bill and Nancy decided not to buy a fishing license and decided to head south the next day.
We drove south on Interstate 84 and stopped for the night at Jerry's BBQ and campground. Of course, Bill and Nancy had to try the rib dinner at Jerry's and brought me a treat, the ribs were excellent!
The next day we drove through Salt Lake City and south on Interstate 15 to Beaver, Utah, you remember we stopped there on our way up north. We arrived at United Beaver Camperland and unhooked the trailer for the night.
Since fishing was slow at Minersville Lake, Bill and Nancy decided to order an A & E Travel Sat Antenna. This is a satellite antenna that mounts on the roof, and with two motors it raises and lowers from inside the RV. They ordered the satellite and then with the extensive research that they do, they ordered from California all the aluminum angle needed to make a strong frame to mount the dish (satellite). They ordered aluminum moly rivets (these expand under the roof skin) to hold down the aluminum frame as well as other bolts needed for a strong frame.
The satellite came by a freight truck, and UPS delivered the aluminum, and now the work begins. While Bill was sawing and making the frame, Nancy was assembling the satellite dish. It takes teamwork to accomplish this and between the two of them working on this project it was done to perfection.
From the two pictures to the right, you can see what a project this was.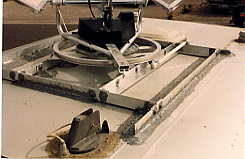 Bill and Nancy spent a few more weeks at Beaver, Utah, and then drove south on Interstate 15, stopping at Mesquite, Nevada for a night of a little gambling (they set a limit of $20.00 to spend) very conservative, and then dinner.
We left and drove to Sam's Town RV Park off Boulder Highway and the next day, Bill and Nancy met some friends for dinner and a little bit more of gambling! Then, it was off again, driving south on highway 95 to Lake Havasu City, Arizona.
Bill and Nancy like Lake Havasu and have spent many years going there to fish. We usually stay at Lake Havasu Trailer Park, and if you get in early, say in September you can usually get a spot for a month, but after that the snowbirds start to arrive and spend the winter there. I did not mention this before, but snowbirds are people who live up north, and as winter sets in they travel south for the warm weather and the sunshine of the desert areas.
Bill and Nancy settled into the trailer park and unloaded their boat to do some fishing and boating on Lake Havasu. You can see that the campground provides much shade, and that's good this time of year when temperatures can still climb to over 100 degrees.
We boated north on the lake and fished our way up to Topock Gorge. This area is a "no ski area" and you can only go slowly through the gorge because it is a wildlife preserve.
You can see that Bill caught a nice striped bass, fishing was a little slow but he got one for dinner and we had a great time boating on the lake and soaking up the sun. Oh yes, the fish weighted over 4 pounds! It's a funny thing about fishing, sometimes Nancy catches all the fish and sometimes Bill has all the luck, this time it was Bill's turn.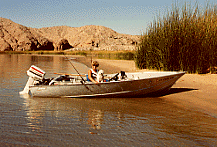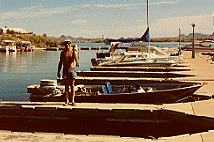 Lake Havasu was created by the Parker Dam, which is all part of the Colorado River, dammed at various locations from Colorado to the border of Mexico. The dams along this route have created many large lakes, which Bill and Nancy have either boated on or fished on.
Lake Havasu is also known for the famous London Bridge which was brought over from London in the late 60's. This was the original stone bridge that spanned over the River Thames in London.
It was constructed in London back in the 1800's, but in 1967 this bridge was sinking into the river, so they dismantled it and built a new bridge from 1967 to 1973. The picture of the bridge you see was the original one constructed in the 1800's.
In October, Lake Havasu hosts the world jet ski races. The races are hosted at different places, but this year it was at Lake Havasu, and so we boated over to watch the jet skiers raced around a course and even saw them jump off a raised platform. If you look closely, you can see the platform and a jet skier in the air ready to land in the water.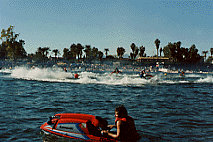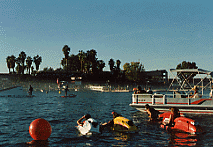 Well, it's time to move again down south, so we loaded up our boat and hitched up the trailer and south we went. We decided this year to spend our winter in California at a place called Salton Sea.
We arrived at West Shores RV Park off highway 86 and settled in for the winter.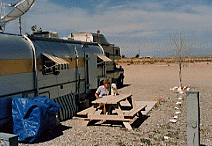 Salton Sea is off highway 86, about 20 miles south of Indio, California. The sea was created in the 1900's. It is 232 feet below sea level and was cut off from the Gulf of California's water because of an increase of sediment from the Colorado River. In 1905 a levee broke and the flow of water came into the Salton Basin, and that created the Salton Sea. The Sea is 40 miles long and about 12 miles wide with only a depth of 40 feet. It is three times saltier than the ocean, but it supports several species of fish, including large corvina up to 25 pounds (Bill caught a 20 pounder several years ago), croaker, tilapia, and sargo. During the winter, you will see many birds and pelicans, it's a flyway for many ducks and geese that spend the winter here.
Bill and Nancy have seen many changes in the sea since they first boated and fished the area back in the 60's. There are still a few resorts found around the sea, and many "snowbirds" flock there to spend the winter. The fishing has tapered off, compared to many years ago, but it seems that this is happening everywhere, not just at Salton Sea.
Bill and Nancy will stay here for the winter, hunting, fishing and taking side trips here and there along with visits to the relatives. But, then soon it will be time to travel again, to see a new place and to visit old familiar places that we have been to. I don't know what next year will bring or where we will be going, but that's the fun of RV traveling!
In the mean time, I hope you enjoyed my travels to the Calgary Stampede and all the places in between and have fun in your travels, just like I am doing!